Peter Quill, Star-Lord, is the latest to headline an Old Man series from Marvel, following up on the post-apocalyptic Old Man Logan and Old Man Hawkeye. But not DC's Old Lady Harley. Though that is funny.
So what has been happening in the decades for Peter and the rest of the Guardians? Well, there's good news and bad news. Looks like he settled down and got busy with L'ssa…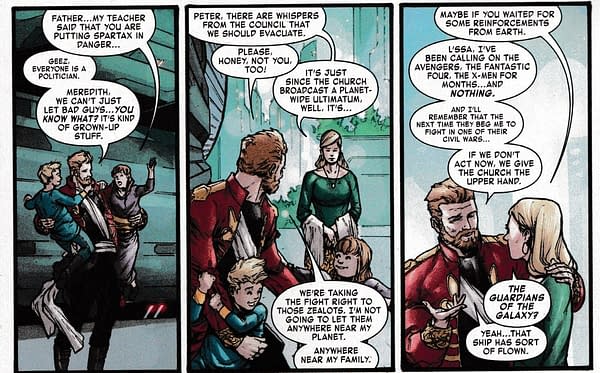 …and went all Shi'ar Emperor on us.

And possibly forgot his friends.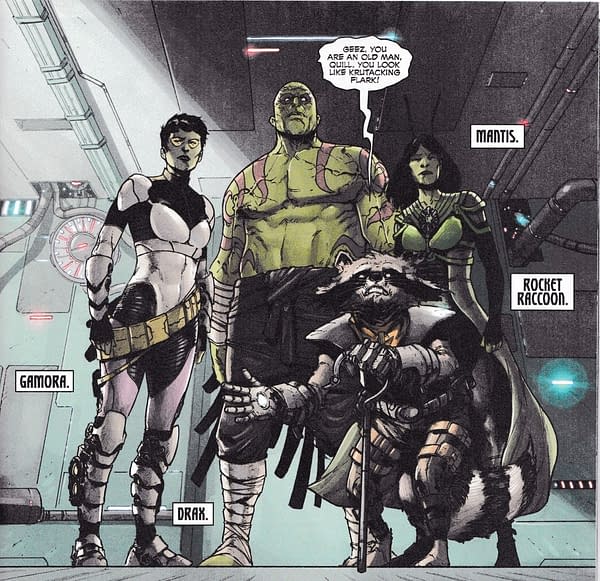 Though he is in charge of a R'senberg. The Guardians have been through a lot it appears. And while there's a revival for the recently-dead Drax…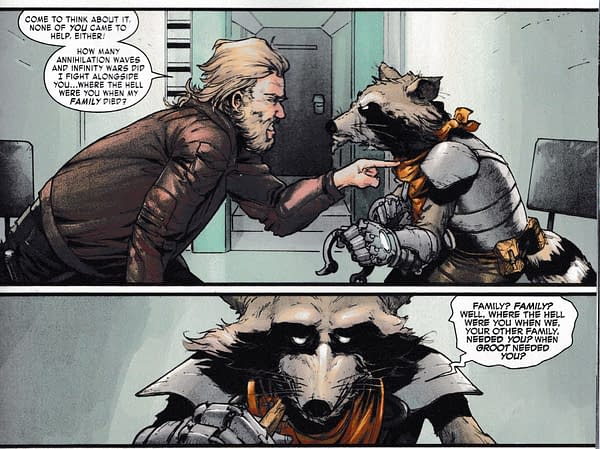 ….it does suggest that Groot is no more. And now he's to discover just why the Fantastic Four haven't been returning his calls…
Old Man Quill #1 is published tomorrow.
OLD MAN QUILL #1 (OF 12)
(W) Sacks, Ethan (A) Robert Gill (CA) John Tyler Christopher
THE FAR-FLUNG SAGA OF THE ONCE AND FUTURE STAR-LORD BEGINS!
Meet Peter Quill. He used to be Star-Lord – you know, the legendary outlaw – but it's been quite some time since he's gone by that name. Taking over for his father as the Emperor of Spartax, Quill put the life of spacefaring adventure behind him for one of leadership and responsibility. Quill grew up. But things didn't go as planned. Decades have passed, and Peter is haunted by tragedy. Down and out, Quill's existence means nothing…until the former GUARDIANS OF THE GALAXY drag Peter out of his funk for one last mission! The heist of a lifetime – and Quill's harrowing quest for redemption – begins here!
Parental AdvisoryIn Shops: Feb 06, 2019
SRP: $3.99
Enjoyed this article? Share it!