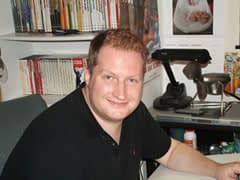 "Ethan Van Scriver". That's how I thought you spelt his name for ages. It couldn't be "Sciver", no, that means someone who tries to get out of things.
Well, it seems he's gotten out of going to Fan Expo Canada, though not for want of trying. The convention had paid for his plane ticket, everything was good to go.
He posed on Facebook "Just came home from the airport. I guess there won't be a Fan Expo for me this year. Very angry. Sorry everyone."
Sharis, his good lady wife, explained;
"They misspelled ONE LETTER in his name, and because it was paid for with a 3rd party CC, they refused to let him through for 30 minutes. He finally convinced them, and security had to GO THROUGH THEIR BAGS twice. With 11 minutes left to catch the flight. Then he had to go through the naked X-ray machine after all that. By the time they got to the gate, the flight left. There was no other flight out of Charlotte that would let them make their connecting flight to Toronto, so thank United Airlines that Ethan won't be in Canada. I suggest fan letters."
Enjoyed this article? Share it!