Oni Press is launching a comic convention-based series just in time for selling at San Diego Comic-Con.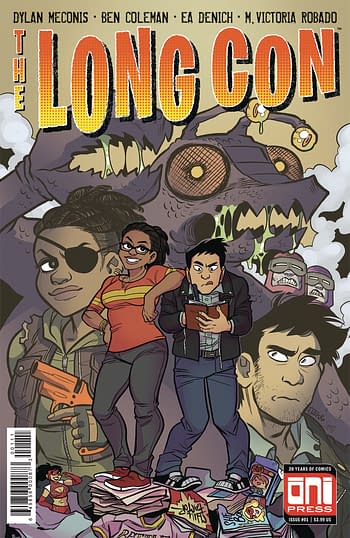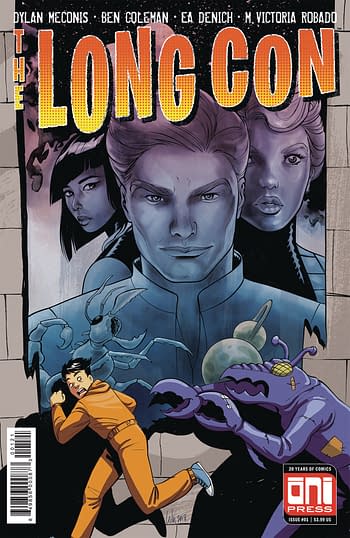 LONG CON #1
(W) Dylan Meconis, Ben Coleman (A) Emilee Denich, M. Victoria Robado (CA) Emilee Denich
Five years ago, a cataclysmic event obliterated everything within a fifty mile radius of the Los Spinoza Convention Center—including the attendees of Long Con, the world's biggest (and longest) comic convention. But unknown to the outside world, the con-goers not only survived, they kept the convention going. When proof of their survival surfaces, reporter Victor Lai is sent to investigate—after all, he was covering the con that fateful day and escaped mere minutes before everything went kablooie… abandoning his nerdy pal Dez in the process. So clearly he's the perfect person for the job, and he won't get trapped inside like some kinda idiot. Right? (STL084932)
32pgs, FC SRP: $3.99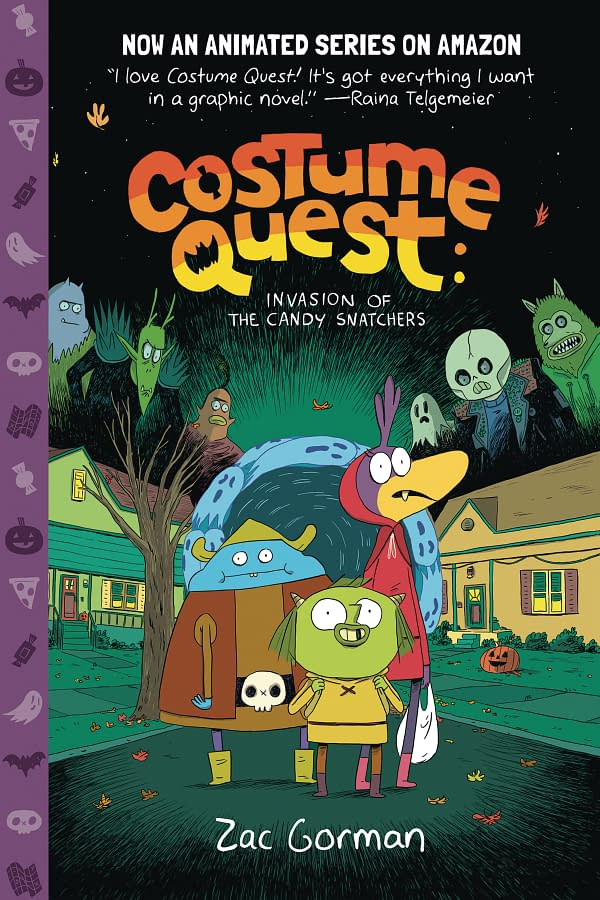 COSTUME QUEST GN INVASION OF CANDY SNATCHERS
Klem and his pals aren't the most popular Grubbins in candy-starved Repugia, but Klem's hoping that will change once he brings a hoard of candy back from the human world. After all, it's Halloween, so there's candy everywhere! Unfortunately, there're also bullies everywhere, ready to steal all of Klem's sweet, sweet loot. Will he and his friends make it out alive, or are they doomed to an eternity of sugar-free torment? From the deliciously magical world of the hit video games Costume Quest and Costume Quest 2, Oni Press presents an adorable Halloween-themed graphic novel from Double Fine Productions (BROKE AGE, PSYCHONAUTS) and comics superstar Zac Gorman (MAGIC GAME TIME) — now an animated series on Amazon! (STL085146)
Item SRP: $8.99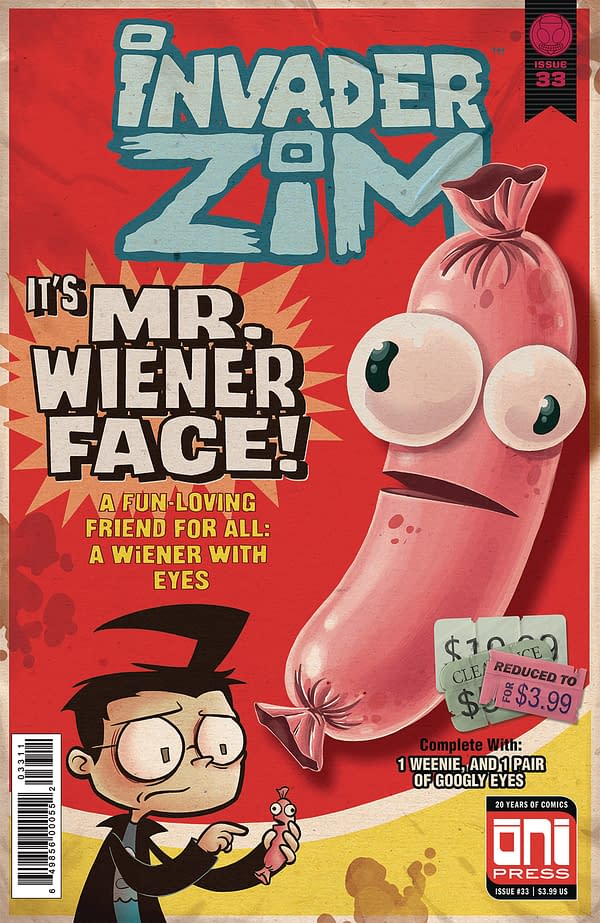 INVADER ZIM #33
(W) Sam Logan (A/CA) Fred Stresing
Dib and ZIM both compete in the Skool's Innovation Fair, but ZIM's ultimate project—which was going to both humiliate Dib AND finally help ZIM take control of Earth—has been swapped with GIR's ultimate project, which is… something called "Mr. Wiener Face." But somehow, the judges are impressed! Could it be that the way to control the humans is through their love of processed meats? ZIM will find out! (STL084927) NOTE: Available only in the United States, Canada, and U.S. Territories.
32pgs, FC SRP: $3.99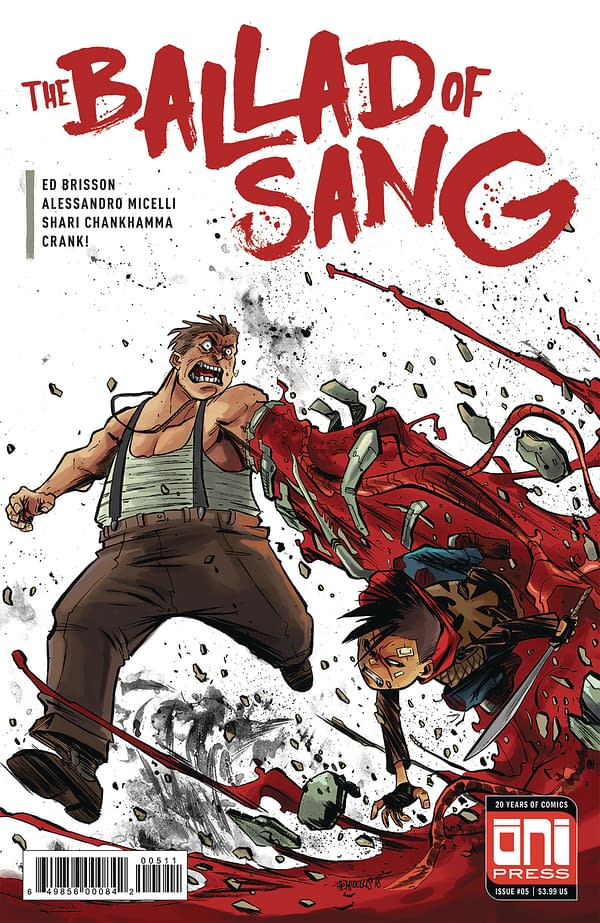 BALLAD OF SANG #5 (OF 5) (MR)
(W) Ed Brisson (A/CA) Alessandro Micelli, Shari Chankhamma
THE FINAL SHOWDOWN! Thanks to Minchella's new arm, he's got a whole new set of deadly tricks up his sleeve. Can Sang avenge his master? Will the Black-Eyed Bettys get their clubhouse back? And most importantly, who's going to pay for the damage to Lucy's food truck? Find the answers to these questions and more in the thrilling conclusion to The Ballad of Sang! (STL084925)
MATURE THEMES
32pgs, FC (5 of 5) SRP: $3.99

DAMNED #11 (MR)
(W) Cullen Bunn (A/CA) Brian Hurtt
As Maura Roarke schemes to learn more about the strange curse that afflicts Eddie, the Roarke family starts to turn on itself, with demon underlings plotting against the head of the brood. Meanwhile, Morgan finds himself doing his brother's bloody dirty work, and Eddie finds himself mired in both girl trouble and trouble with the most powerful demon around—Big Al Aligheri. The mythology of demonkind is starting to unfold, but as the past becomes clear, the future grows uncertain. (STL084926)
MATURE THEMES
32pgs, FC SRP: $3.99

KAIJUMAX SEASON 4 #2 (OF 6) (MR)
(W/A/CA) Zander Cannon
Baba Yaga and her gang of mythical creatures recruit Jin-Wook Jeong, a down-on-his-luck guard, to smuggle in profitable smokestacks, but the very powerful alien shotcaller Victoria Von Vilestra turns out to have something to say about that. Meanwhile, Dr. Zhang finds a good friend in Go-Go Space Baby, and prison starts to look a little bit more manageable. Also: Robotic and crystalline pregnancies! A Cthonic outlook on life! And… the Blue Piplup of Happiness? (STL084929)
MATURE THEMES
32pgs, FC (2 of 6) SRP: $3.99
MAY181887
STUMPTOWN TP VOL 03 (MR) CASE OF KING OF CLUBS (MR)
(W) Greg Rucka (A/CA) Justin Greenwood
When one of investigator Dex Parios's dearest friends is brutalized following a Portland Timbers match, Dex is determined to get to the bottom of the attack no matter who stands in her way! Dex kicks more than just soccer balls in her pursuit of the assailant in this new softcover edition of the critically-acclaimed series from Eisner Award-winner Greg Rucka and new series artist Justin Greenwood. (STL083139)
MATURE THEME)
Item SRP: $19.99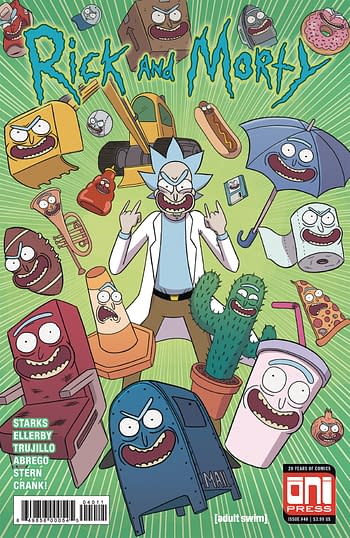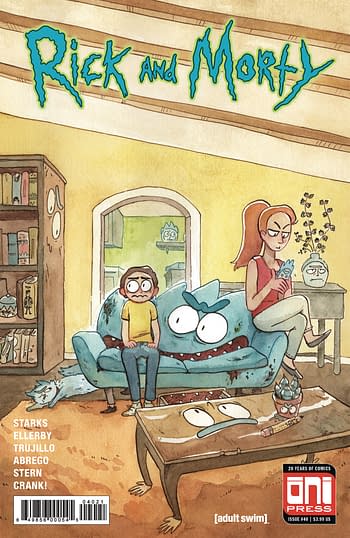 RICK & MORTY #40
(W) Kyle Starks, Josh Trujillo (A) Sarah Stern & Various (CA) Marc Ellerby, Sarah Stern
Rick and Morty are locked in a lethal battle royale, but Rick has a secret weapon — the Transformatron, which can change him into any form. Pizza Rick! Cactus Rick! Butter Churn Rick! IT'S A RICK-STRAVAGANZA! Rick turns into a lot of different things in this issue, okay? There's also a lot of violence and blatant disregard for Morty's well-being! You're gonna love it! (STL084930)
32pgs, FC SRP: $3.99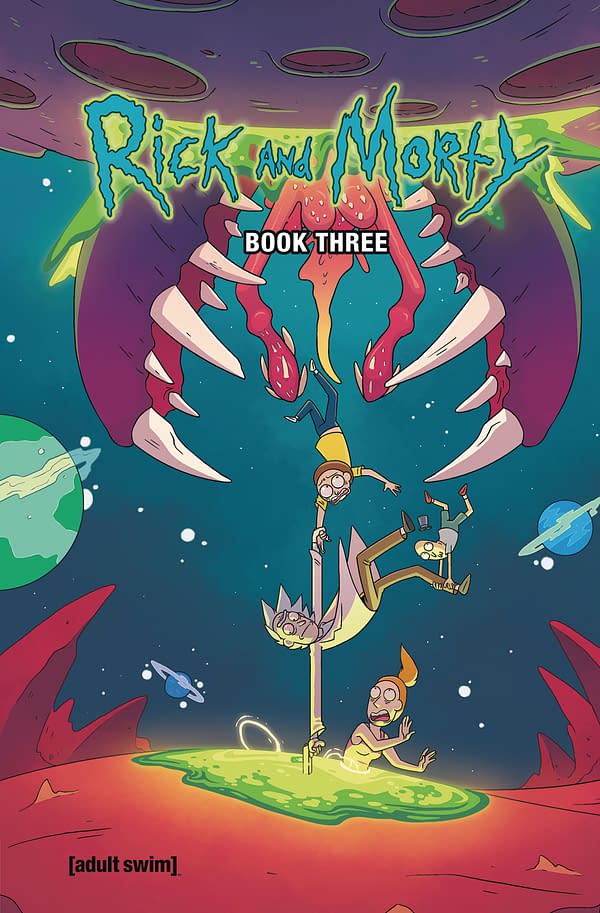 RICK AND MORTY HC BOOK 03
(W) Kyle Starks & Various (A/CA) CJ Cannon
The hit comic book series based on Dan Harmon and Justin Roiland's hilarious [adult swim] animated show RICK AND MORTY™ is available in its third deluxe hardcover collection! Catch up on the adventures of sociopathic genius scientist Rick Sanchez and his inherently timid grandson Morty Smith as they embark on dangerous adventures across the universe! Recoil at the despicable Doofus Jerry and his attempt to take over the family (and the world)! Relive the joys and sorrows of Tiny Rick! Join Summer and Mr. Poopybutthole on their own adventure through fame and misfortune! All that and more in this oversized collection! This special edition collects issues #21-25 of the main series, as well as the entire Lil' Poopy Superstar miniseries. It also includes a brand-new introduction, over thirty pages of extras, and an exclusive sound clip voiced by Justin Roiland. Wubba lubba dub dub! (STL083138)
Item SRP: $49.99
Enjoyed this article? Share it!