In what is possibly the most hipster move in all of comics history, Portland indie comic book publisher Oni Press will reveal their latest Rick and Morty variant covers at an art gallery in Brooklyn, a press release revealed Thursday. Oni teased the variants, showing dissected versions of Rick and Morty creators Dan Harmon and Justin Roiland, as drawn by artist Julieta Colás, last month, but they didn't show us what they would look like. Instead, Oni will reveal the variants for the first time at Bottleneck Gallery in Brooklyn on May 21st.
More info follow in the press release:
PORTLAND, OR., May 2, 2019 — Join Oni Press and Cartoon Network Enterprises for the grand unveiling of two very exclusive Adult Swim Rick and Morty™ #50 Julieta Colás comic variant covers, Tuesday May 21st, at Bottleneck Gallery (60 Broadway, Brooklyn, NY 11249), from 7-9pm. Call time for press is 6-7pm. In celebration of the 50th issue of the Oni Press and Adult Swim comic book, the full Rick and Morty™ comic cover art exhibit will include 50 original comic book covers, printed and framed, and will run at the gallery for 30 days.

Artist Julieta Colás has been illustrating the trade paperback variant covers for Oni Press's Rick and Morty™ collections, Volumes 1-7, Rick and Morty™: Lil' Poopy Superstar, and Rick and Morty™: Pocket Like You Stole It, exclusively sold at conventions as well as the Oni Press Shopify storefront. Placed over a simplistic tan backdrop, Julieta's headshot portraits carefully and playfully craft the biology of different Rick and Morty™ characters, exposing them from the inside out.

Bottleneck Gallery will be selling 100 limited edition and numbered 16 x 20 prints of the first 5 issue covers on giclee.

Rick and Morty™ #50 hits stores May 29th and is now available for preorder.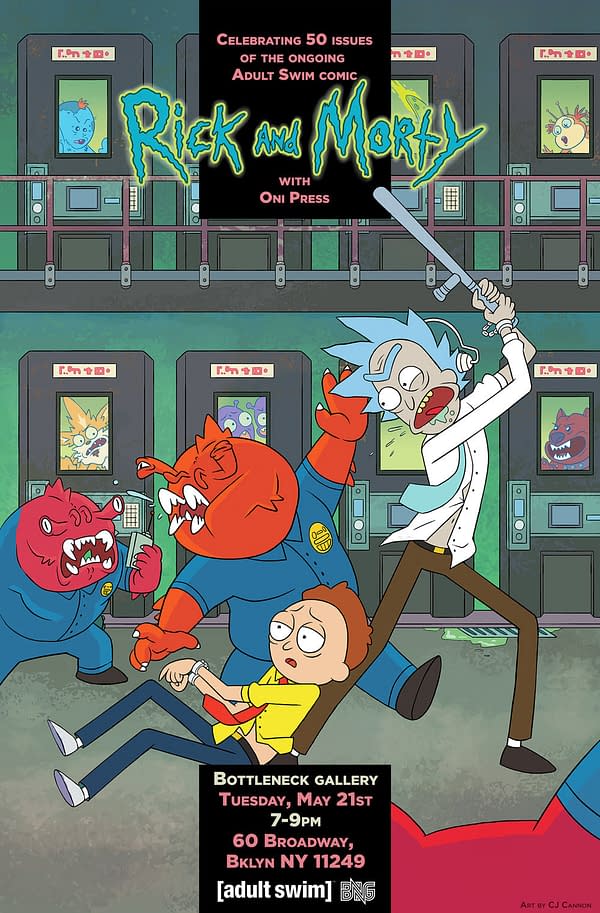 Enjoyed this article? Share it!