Poison Ivy & Harley Quinn, Back In Bed & The Green (#9 Spoilers)
Poison Ivy and Harley Quinn are back together in Poison Ivy #9, after Ivy only murdered several people rather than everyone.
---
"Rule 34" is a modern guideline that states that if something exists, whether fictional or in real life, there will be a sexual depiction of it. Why "34"? Well, that's down to Swamp Thing #34 by Alan Moore, Steve Bissette, Tatjana Wood and John Totleben from 1982, a comic book that depicted a sex scene between the Swamp Thing, that thought it was Alec Holland and Abby Cable. And one achieved by Abby eating one of Swamp Thing's tubers, grown from his body, and entering a psychedelic state.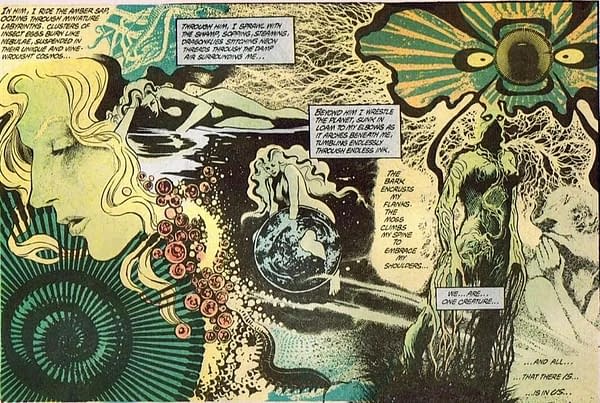 In homage, Buffy The Vampire Slayer Season 8 #34 from Dark Horse Comics also depicted an issue-long sex scene between Angel and Buffy. Rule 34, it's a thing. Anyway. Tomorrow's Poison Ivy is not #34. Which is why it is a little more restrained than either of the above comics. But it does make a subtle reference to Swamp Thing #34.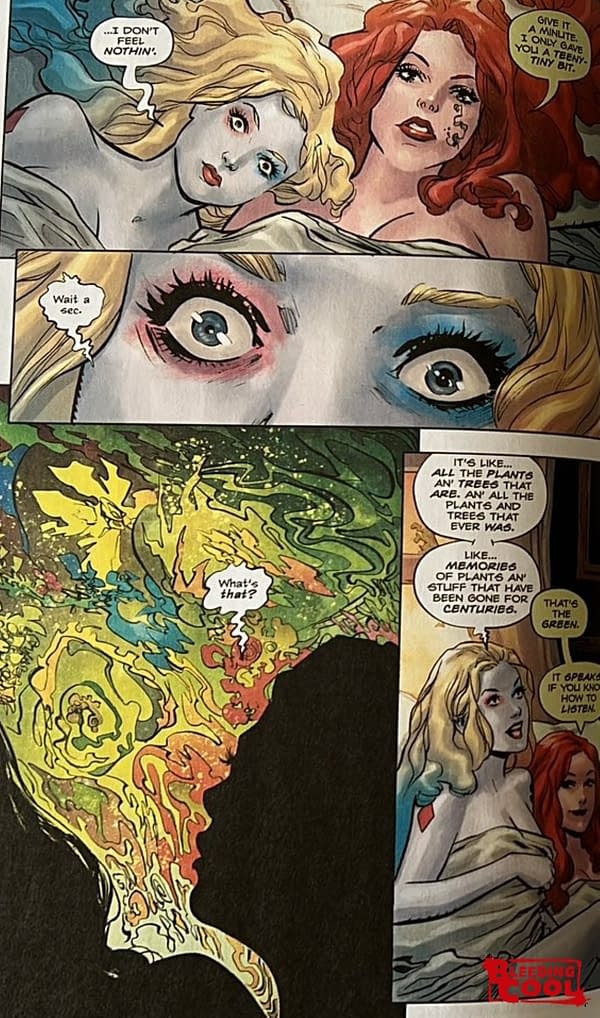 Poison Ivy giving Harley Quinn access to the Green. Though since the two are in a physical relation – and in bed together – the allegory isn't necessary. It is something that might, however, brign them closer. Sexuality as something more serious between the two…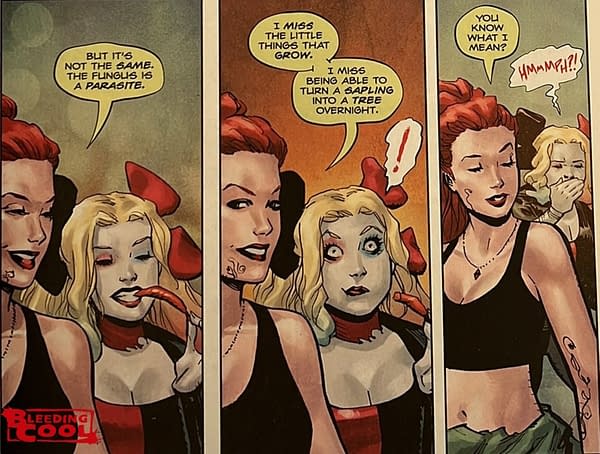 …okay, okay, maybe not. And I suppose if you want traditional traditional Harley Quinn, well DC Comics has you covered in Batman/The Joker: The Deadly Duo.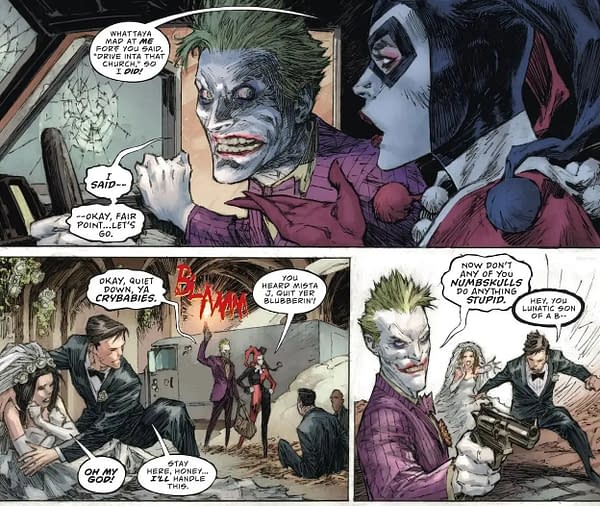 Though you don't get to see Batman and The Joker in bed together. Not in this issue anyway.
But it looks like Harley Quinn is, at least, going to make Poison Ivy all better.
POISON IVY #9 CVR A JESSICA FONG
(W) G. Willow Wilson (A) Marcio Takara (CA) Jessica Fong
IT'S THE ISSUE YOU'VE ALL BEEN WAITING FOR! That's right! Ya girl Harley Quinn—doctor, fashionista, heroic criminal, criminally insane clown, and Poison Ivy's girlfriend—has arrived on the West Coast to spend some quality time with her number-one squeeze! What sort of wildly lascivious and lavishly ludicrous madcap mayhem will the DCU's favorite couple get up to? Featuring the return of series artist Marcio Takara and an assortment of utterly mouthwatering variant covers by some of the most delectable artists around, from iconic Harley Quinn artist Terry Dodson to incoming Harley Quinn artist Sweeney Boo, as well as Dan Mora, Rian Gonzales, and Mindy Lee! You won't want to miss a single bit of it—we guarantee it!
Retail: $3.99 In-Store Date: 02/07/2023
BATMAN & THE JOKER THE DEADLY DUO #4 (OF 7) CVR A MARC SILVESTRI (MR)
(W/A/CA) Marc Silvestri
TRAINing day! Batman and The Joker's ability to function as a team is put to the biggest test yet as they are dropped out of the sky and into a moving train! Will their alliance hold together, even if the speeding locomotive does not? Meanwhile, the Dark Knight has enlisted the help of Nightwing and Catwoman to help with his investigation, but with more pieces of Gordon being shipped to GCPD headquarters, by the time they find any clues, will there even be enough of the commissioner left to save?
Retail: $4.99 In-Store Date: 02/07/2023