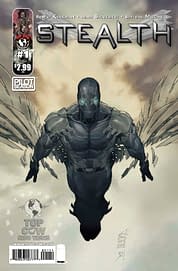 Okay it's a bit late.
Okay, it should have come out in January.
Pilot Season: Stealth #1 created by Kirkman and Silvestri, written by Kirkman, covered by Silvestri and drawn by Sheldon Mitchell.
About a man in a mid life crisis who discovers that his aging father was a masked vigilante. $2,99, out in the US on Wednesday.
Thursday in the UK – I can't believe we have to wait another day after all this time. Typical.
Enjoyed this article? Share it!