PrintWatch: Stray Dogs & George C Romero's The Rise Get Second Prints
PrintWatch: Stray Dogs #3 by Tony Fleecs and Trish Forstner gets a second printing after what Image Comics describe as "the shocking ending to last week's Stray Dogs #3… left fans stunned. A ripple effect of buzz surrounding the issue's gut-wrenching revelation sent a flurry of tongues wagging and readers not yet caught up on the series made a beeline to stores to find out what happened. Stray Dogs #3 inventory has sold-out completely at the distributor level and Image Comics has fast-tracked a reprint in order to keep up with reorders. This reprint of Stray Dogs #3 will feature new cover art by Forstner. "From the start, I knew issue #3 would be pivotal. It turned the story from a cerebral thriller to a real horror story," said Forstner. "When I said this story was a roller coaster, I was not lying. It has been amazing to be on this ride with so many people who are as attached to these characters as I am!" In Stray Dogs #3 readers discover that under the farmhouse, something rots. And some things just won't stay buried.
STRAY DOGS #3 2ND PTG
MAR218833
IMAGE COMICS
(W) Tony Fleecs (A/CA) Trish Forstner
Under the farmhouse, something rots. And no matter how well they're trained, dogs will be dogs. Now they've uncovered something that can't just be buried again.
PrintWatch: George C. Romero and Diego Yapur's zombie comic The Rise gets a second printing of its first issue from Heavy Metal Magazine. Being the son of George A Romero carries some cache it seems…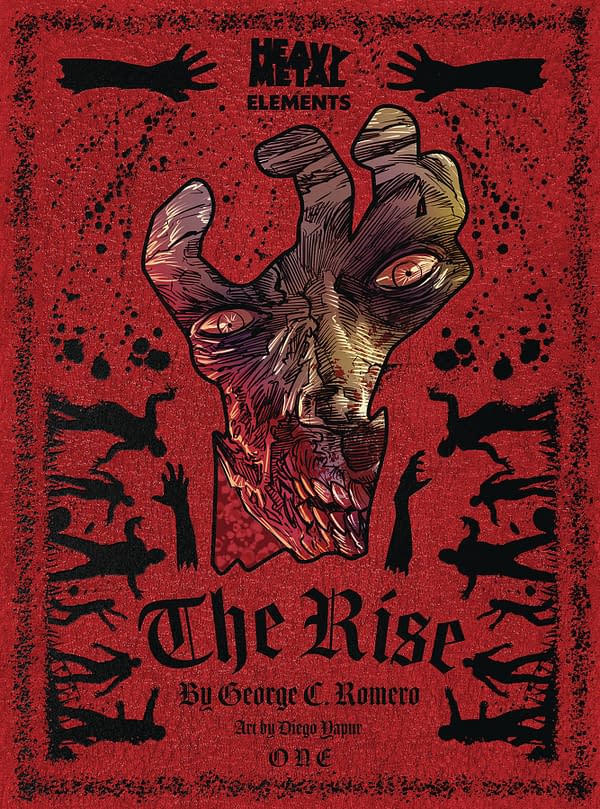 THE RISE #1 (OF 6) 2ND PTG
HEAVY METAL MAGAZINE
(W) George C. Romero (A/CA) Diego Yapur
By popular demand, Heavy Metal presents a second printing of THE RISE #1 featuring a brand new?"mirror image" design cover. The film Night of the Living Dead changed popular culture forever, and now George C. Romero, the son of legendary film director George A. Romero, tells the story before the worst night on Earth. Learn about the death, destruction, and tragedy that led to the birth of the modern zombie in this prequel horror saga to the most significant and influential horror film franchise in history!