'Rat Queens' Has a Swamp Romp with a Severed Unicorn Head (Spoilers)
Yeah, you really can't make that up, can you? The new creative team for Rat Queens, Ryan Ferrier and Priscilla Petraites, take us all on a wild ride into the Gnarnathal Forest, home of the dreaded Slog Chimp.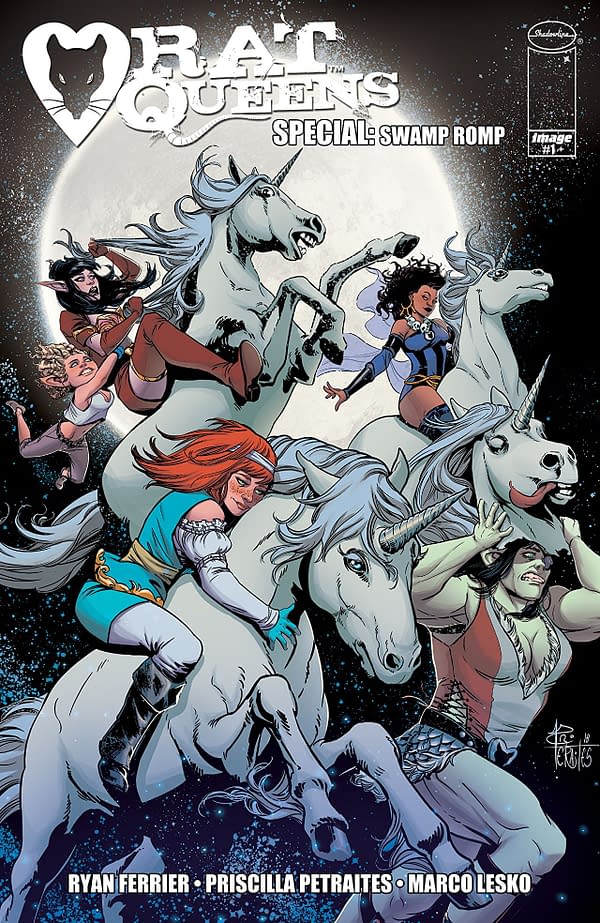 Gossamer Hornwood hires the Queens to track down the Slog Chimp, the terrifying swamp creature that decapitated his beloved Chauncey. Chauncey was Gossamer's special unicorn friend. Betty claims that "Sloggy" is an old friend of hers, but the Queens take the job regardless, having spent their last coin settling a bar tab.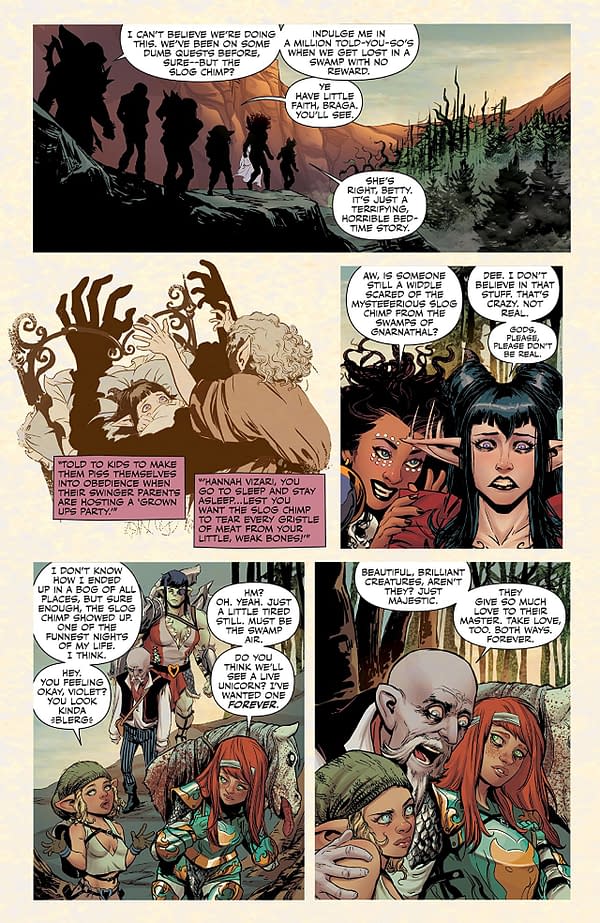 Turns out old Gossamer might have a particular… fondness… for unicorns, which Val seems to share. They begin to argue over who gets to carry Chauncey's severed head.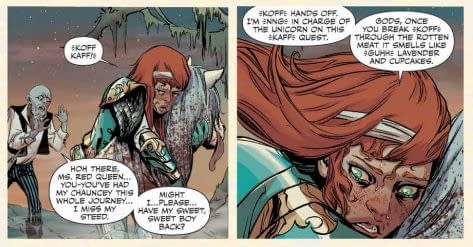 When the Queens finally do meet up with the Slog Chimp (his name is Carl, by the way), they find out that unicorns are vicious, terrible killers, and carry a particularly lethal strain of Unichlamidya, which is killing Gossamer and most likely Violet, too.
Carl and the Queens finally track Violet down, but she's run buck-nekked into an entire flock of nasty unicorns. The Slog Chimp does what Slog Chimps do: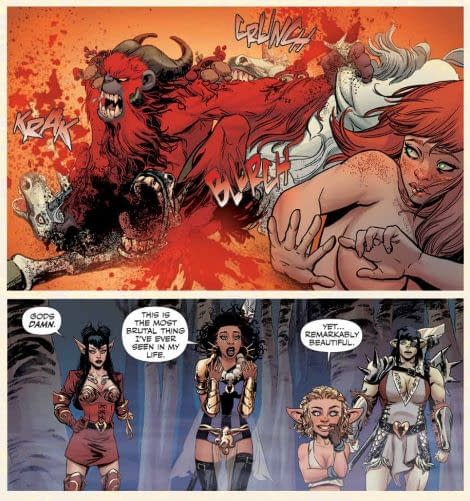 The Rat Queens all join in, and the swamp runs red with unicorn blood. Even Braga gets in on the mayhem, but she's having a hard time with her mercy kills:

Gruesome? You bet. It's pretty entertaining, too, in a really sick and twisted sort of way.
Luckily, there's a happy ending for everyone, even Gossamer, who is reunited with his… special friend.
(W) Ryan Ferrier (A/CA) Priscilla Petraites

Dragons. Monsters. Tricksters. The Rat Queens have seen-and slayed!-it all. But when a dying man of great wealth hires our heroes to exact revenge for the murder of his prized unicorn, Betty, Hannah, Braga, Violet, and Dee are suddenly thrust into a quest that may bring them face-to-face with a mythological creature thought only to exist in bedtime stories. This is Palisade's urban legend, and it will end with either death or a mass fortune.

Featuring the all-new RAT QUEENS creative team, RYAN FERRIER (Death Orb, Criminy) and PRISCILLA PETRAITES (Brilliant Trash)-who will be taking the reins of the ongoing title starting with issue #16!

In Shops: Apr 10, 2019

SRP: $3.99