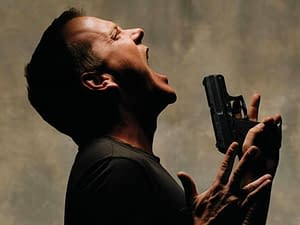 Speaking to TV entertainment magazine Extra, Kiefer Sutherland said that he expected the 24 movie would be shooting by year's end. Sounded fishy, or at least wishy, and it turns out that Fox are distancing themselves from the comment already:
Unfortunately, Kiefer is overly optimistic. The project is still in development, with no director attached. All the other details have been reported.
Which means, effectively, that we might see it. One day. And that could be soon. Though it probably won't be.
The Hollywood Reporter remind us of those previously reported details: Billy Ray wrote a draft, it was shelved. Maybe Tony Scott has a pitch that he's going to propose, maybe not.
I think the one thing that made 24 interesting (barely) was its real-time-ish gimmick, spreading a solid day of action over a season. This won't translate to a two-hour film so easily, and as such, I don't really see the point in making such a project.
Enjoyed this article? Share it!