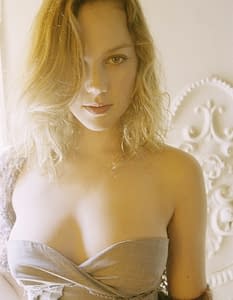 Bleeding Cool has received a tip-off that Abbie Cornish will return to her Bright Star sport of playing kissy face with the great artists of history in the upcoming biopic Whisperings and Lies. Bruce Beresford's film will be a drama about composer and pianist Sergei Rachmaninoff, and the women with whom he formed a love triangle – one of which will apparently be played by Ms. Cornish.
Back when Beresford first signed on to direct, some five years ago, the project was being called Rhapsody. All this time later, the only new info to come to light is this new name for the film, and this small piece of casting. And the fact, I suppose, that the project hasn't shrivelled up and blown away in the wind.
Beresford is currently drilling out the aspirational, will-shoot-for-inspirational Zebras, based on the true story of a mixed race South African soccer team. I assume that Whisperings and Lies will be his follow up.
At this time, Ms. Cornish's representation are yet to respond to our request for formal confirmation.
Enjoyed this article? Share it!