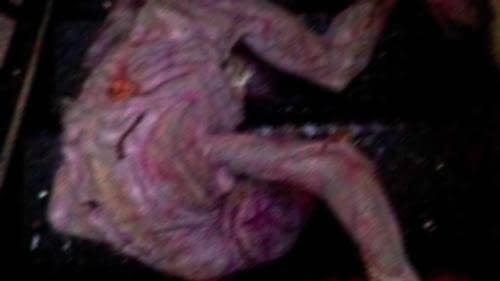 A "large unknown alien creature" is up for auction on e-Bay with a reserve price of one million pounds. There are four not-very-revealing pictures included, one of which is above.
Now, I'm thinking this is some kind of Attack the Block publicity stunt. Here's the evidence:
It's appeared for auction now, just before the film is due for release.
It's being sold from London, where the film is set – not to mention being promoted from
The seller has no history
The thing in the pictures looks pretty familiar. Here's a clip to remind you…
[youtube]http://www.youtube.com/watch?v=0UxpuQlPXQg[/youtube]
And then, finally, there's this product description:
Weird animal found in park 2 days ago. Can supply more images to show features in more detail. Creature is genuinely not anything like any earth animals I've seen. No joke. It's definitely dead now but very well preserved and cud be useful for research of big cooperations or biological tests or something. NB it's in my garage right now but smells pretty bad (despite being kept out of the sunlight in a smoke-free, pet-free flat) so can interested bidders act fast and contact me directly for more info. Really want to shift this thing. Bring a bag for easy transport – don't think you wanna be seen with it. No time-wasters please. Collection only. Thank you.
That's just one "Believe it, fam" away from being a smoking gun.
I'm e-mailing to ask for more pictures. Let's see if they've got any more tricks up their sleeves.
Enjoyed this article? Share it!