self-portrait, Gordon McAlpin, Copyright: ©2010 Chase Sequence Co.
His bio: Gordon McAlpin lives in Chicago with his cat Punk. In his twenties, he watched over a dozen movies a week. Gordon has written movie reviews, co-hosted a movie podcast, and edited a movie news blog, but now he just works on Multiplex. While he has never worked at a movie theater, he has had several equally terrible jobs.
The first book collection of his webcomic, Multiplex: Enjoy Your Show, is now available for purchase from Amazon and directly from McAlpin.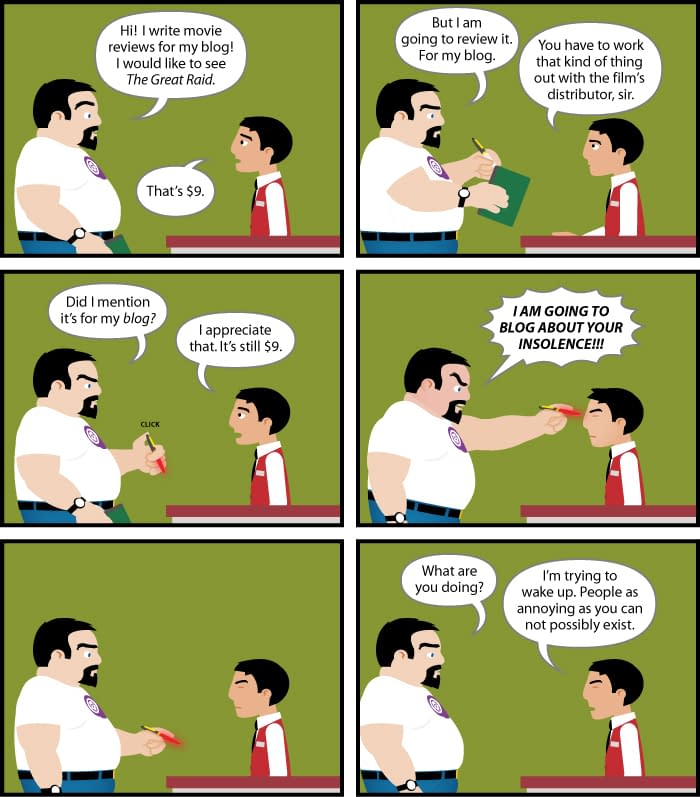 from Multiplex: Enjoy Your Show by Gordon McAlpin, Copyright: ©2010 Chase Sequence Co.
First question: Examiner.com, in its review of Multiplex, says "people who love character driven comedy cannot miss with this fantastic webcomic." Is there any particular set of influences or aspirations that guide your sensibility and style?
Illustration-wise, I'm influenced by cut paper animation and by other vector illustrators, obviously. I love vector illustration. It's just so bright and flat and crisp and clean. And while there are some people resistant to the idea that comics can be illustrated with other techniques than pen and ink (and Photoshop or whatever) — mostly people who have grown up reading superhero comics, I think — I think the flatness of it can be beautiful thing.

Writing-wise, at least with Multiplex, I'm probably influenced most by Archie, South Park, Clone High, sitcoms like The Office or It's Always Sunny in Philadelphia. Archie is the straight-faced teen drama, and most of the others do some level of genre parody, whether it's teen drama parody in Clone High or South Park. Some of the melodrama in Multiplex is very much parody. More than some of my readers think. I don't do it quite as broadly or in-your-face.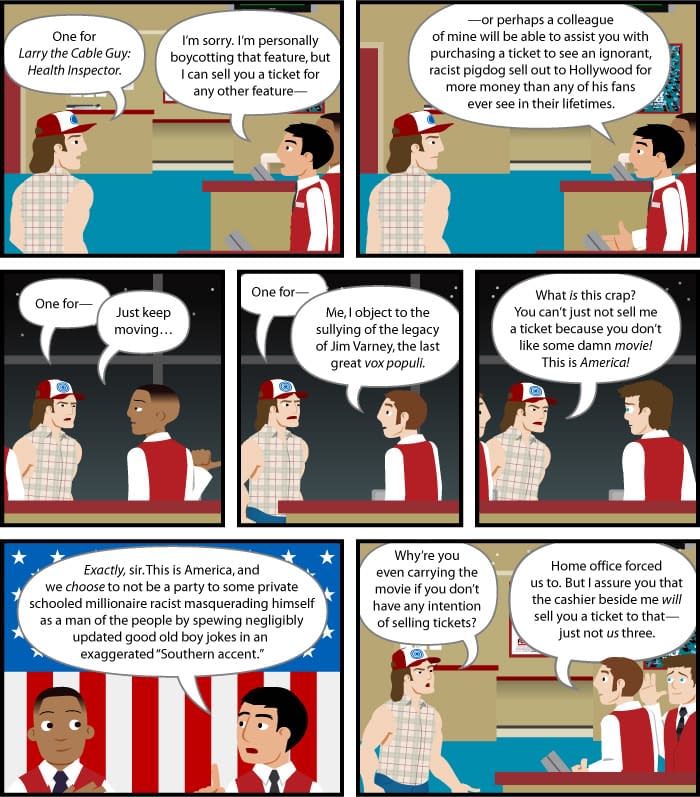 from Multiplex: Enjoy Your Show by Gordon McAlpin, Copyright: ©2010 Chase Sequence Co.
Question no. 2: Other than its purpose as a funny film geek sitcom webcomic, what do you want people to take from Multiplex?
It's hard to say. I mean, I would like for people to think about movies a little more deeply because of the strip. When readers have told me they've become more analytical about the movies they watch because of Multiplex, that's really rewarding to me.

And, through the story thread where Jason is becoming more and more interested in classic movie theaters, it'd be nice if people started to cherish the older moviehouses in their town — or just older buildings in general, really. It's not one of the strip's in-your-face themes, but it's an important one.

Buildings that look like this and have that much history should not be allowed to die.
from Multiplex: Enjoy Your Show by Gordon McAlpin, Copyright: ©2010 Chase Sequence Co.
Question The Third: What appeals to you about publishing a comic online?
What I love most is the immediacy of the internet. Posting a comic and having comments about it within an hour is really rewarding. Well, when people like them. But more than just having people read the strips quickly, it allows me to talk about up-to-the-minute movie news, or actually, semi-seriously comment on a movie in the context of the strip while it's still fresh in peoples' minds.

If Multiplex were serialized in print, I couldn't talk about current movies the way I do. If Multiplex were just a three or four panel newspaper-format comic, I couldn't talk about movies as seriously as I occasionally do. And without really talking about real movies, at least occasionally seriously, you lose the heart of the strip.

Publishing a webcomic is also a hell of a lot less expensive than publishing a book. Ugh.
Gordon McAlpin is available for commissions and freelance work in comics and illustration as well as short-term print production and retouching projects.
***
Dale Lazarov is the writer/editor of chic hardcovers of gay comics filth — STICKY, MANLY and NIGHTLIFE — published by Bruno Gmünder Verlag. Visit Swanderful, his tumblog of Curt Swan comics art, and his very NSFW gay erotic art tumblog, Fuck Yeah Dale Lazarov.
Enjoyed this article? Share it!