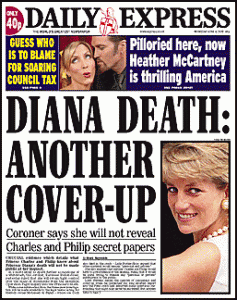 I remember when the Daily Mail printed reaction from Buckingham Palace that they were "utterly appalled" at the planned X-Statix appearance of Princess Diana as a mutant zombie returned from the dead. As a result of this and pressure on Marvel's West Coast, the book was changed. Years later, Joe Quesada would express in outrage "they never even contacted the palace!"
Well, no, of course not. Why would they? Just because they said they had?
And now it's the turn of the Daily Express to create some kind of outrage. Now, the Express is famed for finding any excuse to cover Princess Diana and generate any kind of upset based on very little indeed, on the understanding that she still sells newspapers to stupid people.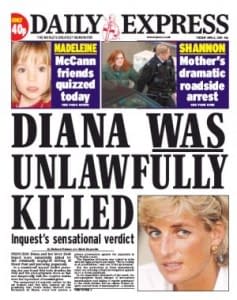 Which is why they ran this story, "Disgust Over Cruel Diana Book", over the incredibly innocuous and even obsequious Princess Diana biocomic from Bluewater, quoting Margaret Funnell saying "comic means something to laugh at. I don't find it at all comical and I wish they hadn't done it. Anyone with half a brain who had a love for Diana will hate it."
It's what they do. They misrepresent, they misinform and they get quotes based on that. Despite saying "a comic book has been branded "disgusting" for showing the tunnel where Princess Diana died and her sons grieving at her funeral", it actually hasn't been "branded" that by anyone except the Daily Express. Get a look at their usual output here.
Now to most UK readers, this is all part of the way things are, we're used to it, we can dismiss such stories easily.
But to publisher Darren Davis and indeed the Los Angeles Times, it's a world away from what they would expect…
Darren is quoted as saying "Mr Davis said he believed some sections of the media had "decided to stir up controversy where there was no controversy to stir" and "Bluewater does not expect everyone to embrace the book. However, to make generalised accusations without a full set of the facts is wrong."
Welcome to the Daily Express, Darren!
Enjoyed this article? Share it!