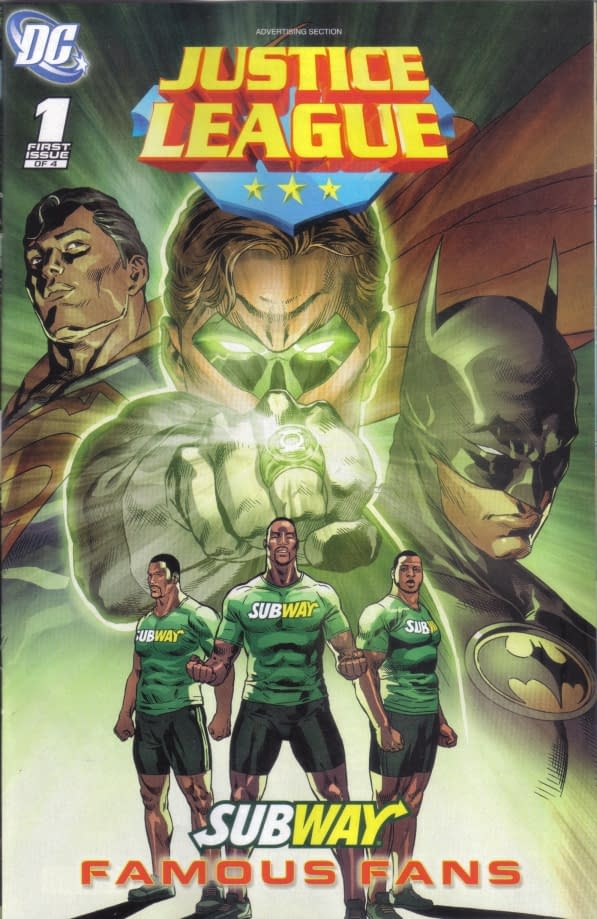 Although all the $2.99 comic books have reduced in size to twenty pages now, DC has been adding thickness with inserts. There was the Super 8 comic book last week, and this week there's a Subway comic, created by DC< as an "advertorial". Basically the old Hostess ad, but decompressed over eight pages. And, aparently, the first of four Justice League Subway issues…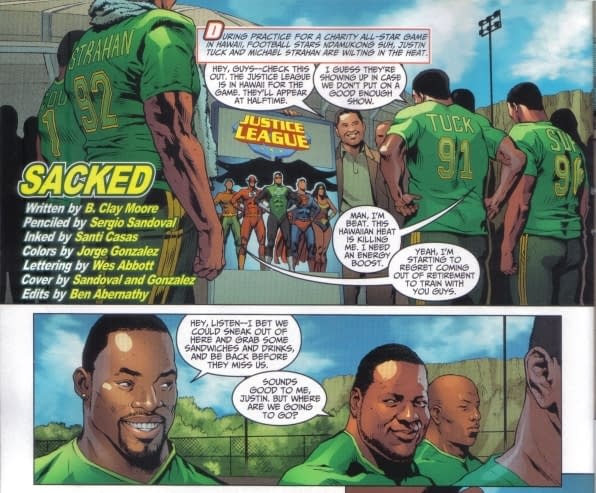 Look at that, written by B Clay Moore as well. Okay, I have no idea who these sports people are, but I presume Sergio Sandoval got a good likeness. So how cloying are the references to Subway going to be? Well, as long as they don't have chracters spouting words that actually sound like they come from a marketing strategy document, we should be okay…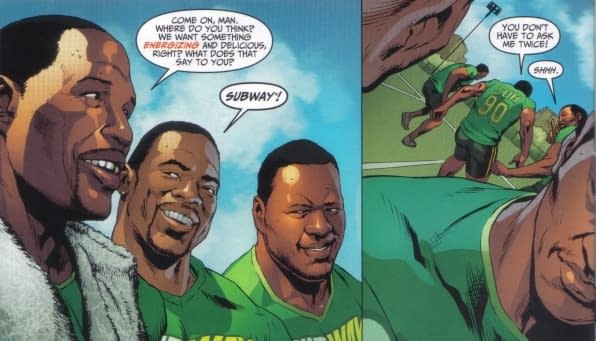 Energizing and delicious! That's what I always say when I'm discussing food options. And, you know guys, you are wearing Subway shirts. That should be a clue. And what's with the local Subway not ponying up free Subways for the guys wearing their logo on their shirts anyway? Bad franchise management there I think.
But how knowledgable are these footballers about the brand they are sponsored by? How familiar are they with the different breads and salads on offer, I mean I don't expect them to be able to rattle off a list of ingredients for each sandwich, but you might expect some…
Oh my mistake. Anyway, the folks see Aquaman in trouble, and decide to go to the rescue. But can we squeeze in one more mention of the product first?
Well done. But it's all very self serving, how about a safety message about the dangers of water?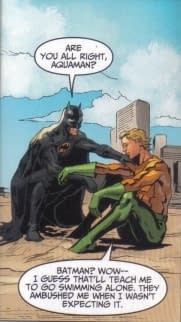 Yes, that's right, it is dangerous for Aquaman to swim alone. Aquaman.
Aquaman.
Dangerous for him to swim alone. And now he's not going to do it anymore. I really hope this comic is in continuity.So anyway, it all kicks off, the Justice League do their thing, but just when you think the game is over…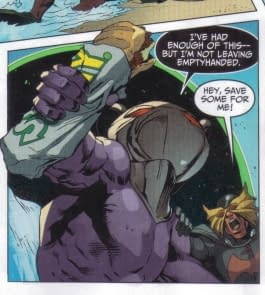 Clealry, no superhero can let that go. Time for another product feature mention.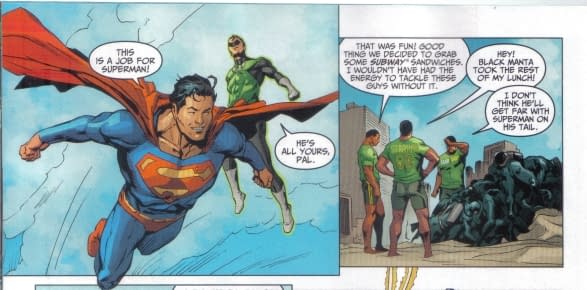 And even Wonder Woman gets to make a fast food produce reference.
Note that Subway want Original Wonder Woman, without the trousers.
Anyway, it all works out and the baddies are defeated. Quick, time to tie up that plot about the stolen Subway, just so people remember what this comic is all about.
There's probably room for one more though.
There we go. Look, he'e even pointing at it. Also, "finish"? He hasn't even started.
Good thing too, because while a fresh Subway sandwich looks delicious, half way through, after it's all turned a bit soggy, it looks more like…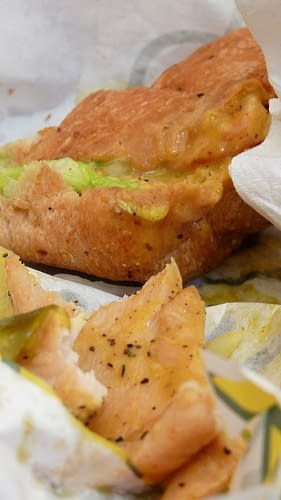 Yeah, not so much.
Look forwatd to three more of these Subway/Justice League/sporting stars comic book.
Actually, there's a thought. In Britain there are serious frestrictions advertising fast food using sporting individuals. Although these are US produced comics, I wonder if it's actually illegal to distribute them in the UK?
Anyone fancy a test case?

Comics courtesy of Orbital Comics in London. Klaus Janson will be signing there at 5pm on the 16th June.
Enjoyed this article? Share it!