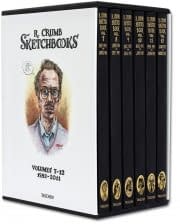 Robert Crumb: Sketchbooks. 1982-2011 are six volumes, totalling 1344 pages of selected sketches from Robert Crumb's notebooks, representing his work over the last twenty years. Specifically chosen by Crumb, including over six hundred never-before-seen pieces of his work. They will be followed by six more volumes, representing the years 1964-1981.

Limited to a thousand editions, Robert Crumb has written an introduction and each includes a signed color art print of The Little Guy That Lives Inside My Brain.
Edited by Dian Hanson, each set will sell for a thousand dollars. Here's a little look and what's inside…
Enjoyed this article? Share it!