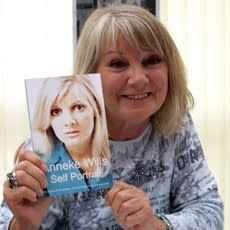 Regenerations, one of the bigger British Doctor Who conventions, just got a tad more interesting. One oif its guests this past weekend was Anneke Wills, who played the Doctor Who character of Polly in 1966 and 1967, with both William Hartnell and Patrick Troughton in the lead.
And about to celebrate her seventieth birthday she still does Doctor Who shows and published projects. Such as her two volume autobiography, Self Portrait and Naked published by Hirst Publishing, run by Tim Hirst.
That's published, as in past tense. On stage, Anneke made a series of allegations over unreceived messages, books being labelled out of print, and paid orders taken for a promised third volume that she never agreed to, that culminated in her firing her publisher on stage to the cheers of the audience.
Oh and someone filmed it.
[youtube]http://www.youtube.com/watch?v=SRRFJG8QkmM[/youtube]
It wouldn't be the only altercation Tim would have to endure that weekend…
Enjoyed this article? Share it!