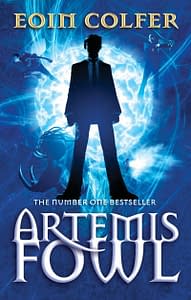 Eoin Colfer has described his Artemis Fowl novels as "Die Hard with fairies". I've never read them, but I just ran that description past a former student of mine who has and she said "Okay, I suppose, if he says so". She added that the books are named after their lead character, who's like "the anti-Harry Potter", and described him as a rather winning young master crook at large in a fantasy version of our world.
With a pitch like that, I'm not too surprised there's a big screen adaptation in the works. Yet, according Colfer, who was speaking to the Irish Independent's Weekend Review, director Jim Sheridan is currently " in LA, trying to get it unblocked".
The problem, apparently, is "the format of the movie" – which might mean they're arguing about how many books worth of story to squeeze into one film, or if they end on a cliffhanger or a happy ending with every bow tied neatly. These were arguments that the filmmakers behind, for example, Harry Potter and The Lord of the Rings and The Spiderwick Chronicles all had to go through.
Sheridan previously directed My Left Foot and In The Name of the Father, to give just two fine examples, and has Dream House with Daniel Craig coming along later in the year. I like most of his films a great deal, and all of them at least a little. And yes, that includes Get Rich or Die Trying,  the 50 Cent film he was responsible for.
The same newspaper reported back in February that Saoirse Ronan took meetings with Sheridan about the role of Holly Short, a member of the elven law force. Colfer punningly calls these characters LEPRecons, or members of the Lower Element Police Reconnaissance. This week, the Irish Independent say, Colfer "wants" Ronan to take the role.
Well, who wouldn't?
Here's hoping Sheridan can break through the blockage. I'd also like to see him sign Ronan. She's good, even in bad films.
Enjoyed this article? Share it!