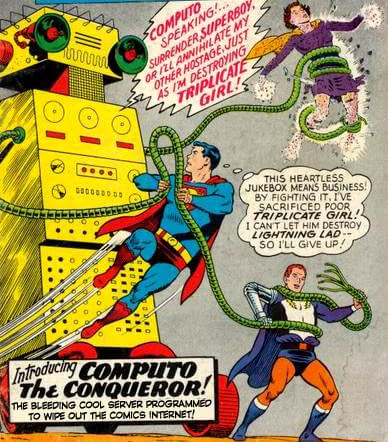 This is The Bleeding Cool ComicChron Robot speaking. Yesterday I was mocked. Mocked for my collating of comic industry bits and pieces. You will mock no longer when I destroy the street you live in with my floating laser eyes. Exactly, now you looked scared. I come for your women..
WHat say you now, puny fleshy morons?
Occasional Superheroine: The Power Of Decisions
The responsibility ultimately lies with us. It is not just "The Man" keeping us down. We collectively shape this industry. And I feel that we have largely failed. We failed because we loved the industry too much and were afraid to be cut off from it. And that is why I feel things will not change significantly except for the work of forces outside of us. And that is why to keep writing opinion pieces like this seems pointless but for the momentary topic-of-the-day to be picked up two days later by Bleeding Cool or Newsarama (with all the gloriousness that ensues from that point).
Poison Ivy Costumes – Halloween Landing Zone
These Sexy Poison Ivy Halloween Costumes are perfect for a Batman theme for a couple. You in this Poison Ivy Halloween Costume and him in a Batman Costume under your trance from your toxic kiss. Get some green lip Stick and finish this costume off.
Todd's Blog » Blog Archive » Lettering Wisdom
Quoting Tom Orzechowski: "Most writers never say a word, one way or the other. They'll assume that you're a professional in ability as well as in attitude, and they don't feel the need to comment on the work. Drives me crazy. (So, am I about to be fired, or what?!) I just assume that no comment is good comment. I've outlasted a lot of writers, and I hope you will, too. Trust your instincts, keep your eyes open, and don't take anything personally. It's off sale in 30 days."
The Dalek Chronicles « The Daily P.O.P.
From 1965 to 1967, children were entertained by 104 episodes of wall-to-wall Daleks. No Doctor, no one to stop them, just fire-blazing, death-ray firing robotic tanks of evil paving a path of destruction across the galaxy. Marvel UK reprinted the strip in the 80′s, but I don't know of any nice hardbound collections. The folks at Altered Vistas have adapted the comic strip into full animation features that look wonderful.
Subtraction.com: Secret Lives of Comic Book Panels
Looking at examples like the one above, a cut-away diagram of The Fantastic Four's futuristic corporate headquarters, I defy anyone to argue that our current fascination with information graphics doesn't originate, at least in part, from the kinds of schematic graphics like this that old comics routinely dealt in.
2000 AD in 1984 — Alan Moore and Ian Gibson develop Halo Jones
In 1984 Gibson teamed-up with Alan Moore to create one of 2000 AD's true classics, The Ballad of Halo Jones. For this series Gibson toned down the cartoonish elements of his art to create the detailed reality of 'The Hoop' and the universe beyond. The character sketches presented below of Halo, Rodice and Brinna are taken from issues 15 and 17-18 of the British fanzine Arken Sword and show a taste of the considerations Gibson gave to the look of fashion in the 50th century.
The Comic Speculator – New Comics Roundup 09/01/2010 | WorthPoint
Freedom Fighters #1: Why it'll go fast: Palmiotti and Gray write good comics and they've been doing it for some time now. I first noticed the writing team's work during their amazing run on Hawkman and then followed them to Jonah Hex (read the comic and skip the movie). Nerds dig these guys and will pick this comic up to see what they'll do with the Freedom Fighters. Retailers, on the other hand, probably don't have the same love of these two. Palmiotti and Gray were the team that took over Hawkman after Geoff Johns, which resulted in reduced sales and ultimately cancelation. Jonah Hex has never been a big seller but has been a critical success from day one. Much like the writers, the Freedom Fighters have a similar cult following that will pick this comic up. I don't see an instant sellout, but by the time issue #2 hits stands, I'd say #1 will be pretty hard to find.
DJ Coffman publishes ebook on revenue streams The Daily Cartoonist
[BC ComicChron note: Coffman, Scott Kurtz, and Ted Rall have it out in the comment section] DJ Coffman, creator of Yirmumah and Hero By Night (which is now in development as a live action TV) has published an ebook entitled "CASH for CARTOONIST$"
Choose Your Reality: Alan Moore Unearthed | The Skinny
That was one of the initial ideas. Another one was to actually put back some of the objectionable elements that Lovecraft himself censored, or that people since Lovecraft, who have been writing pastiches, have decided to leave out. Like the racism, the anti-Semitism, the sexism, the sexual phobias which are kind of apparent in all of Lovecraft's slimy phallic or vaginal monsters. This is a horror of the physical with Lovecraft – so I wanted to put that stuff back in. And also, Lovecraft was sexually squeamish; would only talk of 'certain nameless rituals.'
Enjoyed this article? Share it!