Birmingham's Answer To Phoenix Jones – The Statesman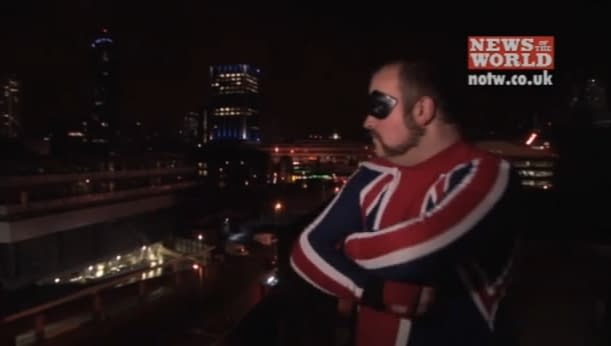 According to the News Of The World, and I use that statement with all the baggae that brings with it, The Statesman is a real life superhero patrolling the streets of Birmingham in the West Midlands to prevent crime.
He fights drug dealers, drunks and helps out homeless people in trouble. And what's more, his secret identity is one under much attacjk right now – he's a banker.
No wonder he feels the need to do good.
Apparently his friends and girlfriend doesn't know about his four-times-a-week patrols. But with that frame and that beard, well it's a bit like Oliver Queen isn't it? Who wouldn't know?
The News Of The World states his accomplishments;
He helped three other superheores and Police Community Support Officers capture a drug dealer and managed to scare off burglars breaking into builder's merchant.
Bloody hell, there's more of him. Well, criminals are a cowardly and superstitious lot. But much of his time is spent fighting drunks. See, that's what you don't get enough of in superhero comics. Sozzled supervillains.
Say I wonder if he'll be at the Birmingham Comic Expo thing?