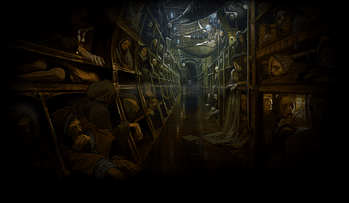 Speaking at a press conference on Tuesday, Bong Joon Ho addressed the cuts he's making to the eagerly-anticipated sci-fi picture Snowpiercer for its international release.
We previously heard that there would be twenty minutes lopped off of the film, and while he cited no particular numbers, the director has now couched the cuts as minor.
Here are the quotes as related by Xin MSN:
I came here after editing for the American version. I've never produced a new version for overseas premieres, and this is the first time I'm making a new version. Weinstein is actually being pretty soft toward editing, probably because it's noticed how critics have praised the film and know how angry movie fans get over new edits. They even asked me which parts I want to include in the film.
Oh, how kind. "Which of your fingers would you like us to not cut off?"
Anyway, "pretty soft" demonstrates clearly that he's not keen to make the cuts. It's not a positive notion, just a smaller negative one.
And regarding the question of what Bong Joon Ho would like to leave in, it's obvious that the answer "all of it" just wouldn't have flown with Harvey.
Incidentally, the film continues to be a huge box office smash in Korea, where I can't imagine the audiences are any better or worse at following a movie or engaging with its ideas and characters than in the West. Seems that Weinstein doesn't agree and that the film needs to be cut down to be enough of a hit.
Enjoyed this article? Share it!