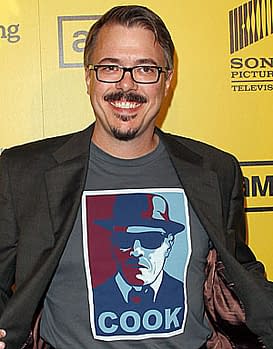 This is so random that it's just about perfect. Breaking Bad creator Vince Gilligan has found himself a follow-up gig, and it's guest starring on an episode of the new season of NBC sitcom Community.
EW reports Gilligan will make his acting debut on the show, playing a gold digger who exacerbates an argument between Alison Brie's Annie and Danny Pudi's Abed. On Community, this makes perfect sense.
Gilligan isn't the only Breaking Bad guy to crossover to the community college-set sitcom. Giancarlo Esposito, who played Gus, has appeared in several episodes as Chevy Chase's Pierce's newly discovered half-brother, and Jonathan Banks, who played the toughest, sweetest Cleaner ever Mike, will appear in a major arc this season as a criminology professor.
If you're itching for Gilligan to get back behind the camera and bring us more Breaking Bad-level TV, don't worry. He's working on the spinoff, Better Call Saul, as well as a detective crime drama at CBS called Battle Creek.
Enjoyed this article? Share it!