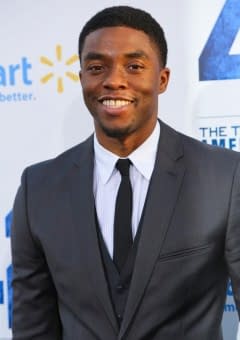 Pretty slow news day today. I guess everyone's still recovering from Miley Cyrus' VMA performance.
• 42 star Chadwick Boseman is going from Jackie Robinson to James Brown. The long-gestating biopic of the singer to be directed by The Help's Tate Taylor is finally moving and has taken a significant step forward with this crucial casting. [Variety
• The Hunger Games: Mockingjay (Parts 1 & 2) has cast unknown Australian actress Stef Dawson in the role of Annie Cresta, who is the longtime love interest of Finnick Odair, played by Sam Claflin. She could or should have appeared in Catching Fire, so I'm sure fans are relieved to know she will be introduced eventually. [Lionsgate]
• Fear not, Pacey Witter fans. Fringe may be over (Dawson's Creek even more over), but Joshua Jackson has already lined up his next potential TV gig. He's rounding out the quartet cast in Showtime drama pilot The Affair, about, yep, an affair that rips apart two marriages. [Deadline]
• Scott Eastwood has landed a role in David Ayer's WWII tank drama Fury. Brad Pitt, Shia LaBeouf, Michael Pena and Logan Lerman star. It's always nice to hear about filmmakers giving a chance to obscure, unknown actors based on their undeniable raw talent. [Deadline]
• Netflix's House of Cards actress Rachel Brosnahan has landed the lead role in indie horror The Sainthood of Bethany Wolfe. Brosnahan plays Bethany, who is taken in by a priest after her parents' violent death. [The Wrap]
• Broadway's Spider-Man Reeve Carney has left the stage and is heading for the small screen by joining the cast of Showtime series Penny Dreadful. Carney will play Dorian Gray in the monster mash-up series that also stars Timothy Dalton, Josh Hartnett and Eva Green. The names behind the camera are even more impressive: John Logan is writing it, Sam Mendes is producing it, and Juan Antonio Bayona is directing the first two episodes. [THR]
Enjoyed this article? Share it!