Casting Roundup: Rachel McAdams, Christina Hendricks And More Girls On Film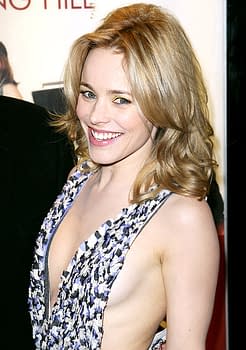 Linda Ge writes for Bleeding Cool.
Today's (mostly) all about the ladies, as Rachel McAdams, Dakota Johnson, Christina Hendricks Ashley Greene and more eye their future projects. And just in case you missed the big story that broke right here on BC….
• Elizabeth Olsen is inching closer to the Scarlet Witch role in The Avengers: Age of Ultron after Saoirse Ronan apparently turned it down. Joss Whedon returns to direct in early 2014. [Bleeding Cool]
• Rachel McAdams has joined Wem Wenders' 3D dark family drama (you read that right) Everything Will Be Fine opposite James Franco, Charlotte Gainsbourg and Robert Naylor. McAdams will play Franco's girlfriend in the already filming movie. [THR]
• Gilles Paquet-Brenner's adaptation of Gillian Flynn's novel Dark Places just gets better and better. It's already got Charlize Theron, Chloe Moretz, Tye Sheridan and Nicholas Hoult on board, and today he adds House of Cards MVP Corey Stoll and Mad Men bombshell Christina Hendricks to the cast. Watch out, David Fincher, Gone Girl's got competition. [Deadline / x2]
• The latest name linked to Twilight fan fiction mommy porn 50 Shades of Grey is The Social Network actress Dakota Johnson. Meanwhile, smarter more established actresses like Shailene Woodley and Alicia Vikander have reportedly already taken themselves out of the running. Ladies, please give Dakota a call. [The Wrap]
• Meanwhile, actual Twilight actress Ashley Greene is joining Lorne Michaels-produced summer teen comedy Staten Island Summer. She'll play the object of affection of one of the two lead recent high school graduates. [Deadline]
• Idris Elba will star in Cary Fukunaga's adaptation of Beasts of No Nation, about a child soldier in Africa, from the novel by Uzodinma Iweala. The long-gestating film was adapted by Fukunaga in 2007 and he's been trying to make it since 2008. It will be shot on location in Africa. [Deadline]