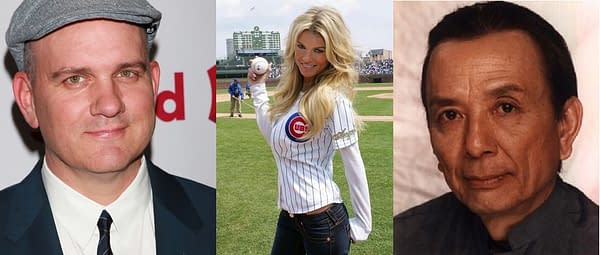 To be honest, there have been many casting announcements for R.I.P.D trickling through that we simply haven't reported on, mainly because there have been so many casting rumours and updates over the past few months that if we reported on them all you guys would start to think we had some kind of obsession with this film. I first started reporting on casting announcements for R.I.P.D. before I started writing for Bleeding Cool, that's how long they're taking to get their players together. So here's the latest three announcements.
First up we have Mike O'Malley, who some of you may recognise as Burt Hummel from the terrifyingly popular behemoth of a TV show that is Glee. He'll be playing a ghost called Elliot, apparently in quite a minor role so that's all the character information we have.
Next we have, oh my, Victoria's Secret and Sports Illustrated model Marisa Miller, who some of you might not recognise with her clothes on. Her previous acting credits include playing a supermodel in an episode of Entourage (I hope for her sake that she nailed the performance) and a guest-starring role in an episode of Gary Unmarried. This is my favourite part of the announcement: she's going to be playing Jeff Bridges. I'm not kidding, she's the flesh-and-blood avatar of Bridges' character Miller, who is an officer in the Rest In Peace Department. Damn, and I thought it was impressive when they CGI'd away his wrinkles in Tron: Legacy. This really is one hell of a makeover.
And last on the list of new announcements is James Hong, who has a staggeringly long list of credits but is best known for playing Hannibal Chew in Blade Runner and David Lo Pan in Big Trouble in Little China. Want to hear my favourite part about this announcement? He's going to be playing Ryan Reynolds. Yes, he'll be Grandpa Chen, Reynolds' avatar.
So there you have it, we have a Victoria's Secret model acting in the style of Jeff Bridges, and an elderly Asian man acting in the style of Ryan Reynolds. This may turn out to be the best movie ever made. Here's the plot synopsis for those not already familiar with it.
Welcome to the Rest In Peace Department — the devoted, yet dead, officers of divine law enforcement "patrolling the deadbeat…reporting to one boss." Yep — THAT boss. Nick Cruz was murdered by an unknown assailent, at the height of his personal and professional life. Now he's traded a hundred years of service to the R.I.P.D. in exchange for a shot at finding who killed him. Unfortunately his search will take him to Hell and back — literally!
The movie is directed by Robert Schwentke from a script by Phil Hay, and is based on the comic book series by Peter M. Lenkov. It's currently slated for US release on the 18th June 2013, which at least gives them plenty of time to finish casting the thing.
Enjoyed this article? Share it!