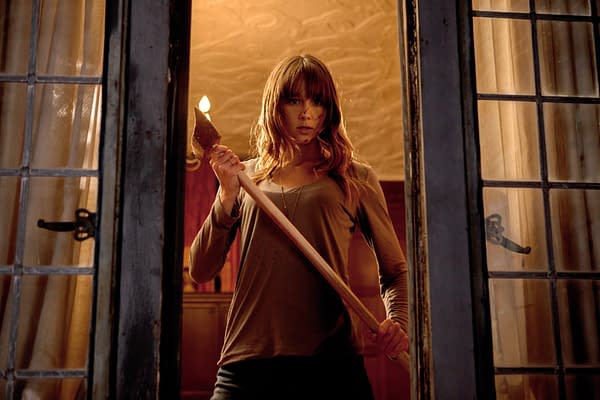 After a long, long wait, Adam Wingard's readymade cult favourite You're Next is being released today in UK cinemas. The perfect opportunity, then, for a chat with Sharni Vinson, perhaps the film's MVP offscreen as well as on.
Though she's booked a series of horror films in a row now, from Bait through You're Next and on to the do-over of Patrick, her next move is getting into action cinema. Vinson says that she's been cast as one of the key players in Adi Shankar's female-centred spin on The Expendables – though there's not much else we really know about the project as yet.
Vinson's is a career that keeps evolving. You can definitely see the birth of an action heroine in her You're Next role. I deliberately chose the frame at the head of this post to show a certain side to her character in the film.
And, you know, I think it's only a matter of time before she's got a Marvel or DC comic book character on her resume too. She's just the kind of breakout player that's going to get snapped up by a huge tentpole picture, and soon.
We started our chat by talking about Vinson's past as a triple-threat singer-dancer-actor. Here's what she had to tell me, moving into her love of horror, You're Next and then Patrick.
I'm a third generation performer. My grandmother was a professional ballerina, and at fourteen she became one of the youngest women in our country to get a scholarship over to England and be in the ballet company there. Then my mother went through musical theatre for her career. So, growing up, I naturally fell into dancing, signing and acting, and I trained in all fields of the industry.
In different times of my life, acting, singing or dancing would overpower the others. I did the singing thing for a couple of years before anything, then I was most definitely a dancer for a long time and then I booked my first role in Home and Away when I was twenty one and that's when acting overpowered the other two.
There was never a moment where I was ever going to be anything other than an entertainer. I was a swimmer for a long, long time with fifteen years in the state swimming squad but I had no urge to attempt a career at the olympics or anything like that. I just didn't have the same love for swimming up and down a black line as I do for being on stage and making people smile.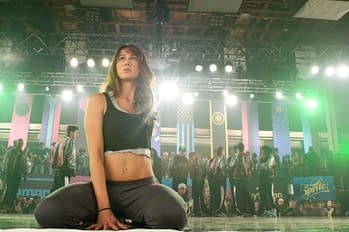 I'm sure my mum's proudest moment to date was seeing me up there on screen in Step Up 3D. All that money and the dance lessons paid off, all those mornings she drove me an hour to the dance school because it was the best one. But watching that film she knew she'd done the best thing. When I watch Step Up I'm incredibly proud and I wish my grandmother was still alive to see it. I did dedicate Step Up 3D to my grandmother.
I'm thinking that the future will bring me back to singing and dancing. Step Up was my first feature film and it was everything I did in my childhood coming back into play, without me realising it. It was preparation meeting opportunity. I was lucky to book that gig, but I was also very prepared to do it. With Step Up everything just made sense.
Ever since I was younger – and I mean young, from the age of about six or seven – every Friday night was slumber party night and I had one friend who was allowed to stay over and we would aways go to the video store. We would be allowed to pick one movie that we'd try so hard to stay awake to midnight to watch. This happens for years, and all that time, the only section of the video store I'd bother entertaining was the horror film section. From such a young age I was just in love with horror films. I think it's because I just wanted to be scared, and I wanted an experience. Horror definitely gives you an experience. Now, to do be doing horror movies, it's pretty cool.
I've been out of Australia for five years so I think that I've completely lost my knowledge of what's coming out. Bait was a weird one because it was an Australian movie that then got ADR'd into a full-American production. I got really confused about that, but I know it went huge and hit number one in China which was, at the end of the day, the aim they had for that film.
I think you should pick movies to be in that you'd go and watch. I do things because I'm passionate about them, not because "This director's attached so it could make you a superstar, but by the way, he's an asshole and it's going to be hell to shoot." I need to do something because I'm passionate about it and the experience is enjoyable.
It's really preciously special to come through a film the way that You're Next has come about, from script stage to everybody meeting for the first time, all of us just trying to get the best film made that we possibly can. We all went through that together, then through the first screening at Toronto then getting picked up by Lionsgate, then through a year and a half while they worked out how to market it. It wasn't anything like Step Up where I signed on to a franchise that I knew made a lot of money, where the experience was incredible but you aren't part of it from scratch. You're Next has been a family building, two-and-a-half year process already.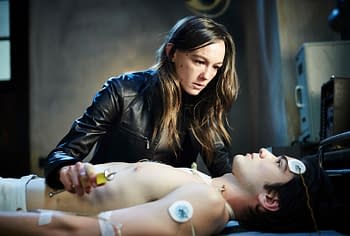 As Sharni was being dragged away to her next appointment – she was apparently rather later – she managed to throw me a couple of quick lines about Patrick, the first feature from Not Quite Hollywood's Mark Hartley, and a remake of the Richard Franklin horror classic.
I shot Patrick in November-December last year, it's with Charles Dance, it's about a guy in a coma who's a psychotic killer, he get inside people's minds and make them do some crazy things and that's coming out in October this year.
October? Great! I'm quite impatient to see Patrick, I'll admit. With You're Next, though, the impatience can finally be over. It's in UK cinemas today, has been in US cinemas since last Friday and definitely comes with a recommendation from at least three of the Bleeding Cool team.
Enjoyed this article? Share it!