We're both dreading and longing for the upcoming Bohemian Rhapsody film about rock megaband Queen and their larger than life front man, Freddie Mercury.
With production on the film originally beginning in September 2017 with Bryan Singer in the hot seat, things quickly fell apart. Reportedly, the production halted completely when Singer disappeared- even the studio couldn't find him – resulting in his being fired. Dexter Fletcher stepped in to take over in December.
As we reported earlier today, the film will tell Mercury's story through the 1970s, when he joined the band and help them achieve international success with that titular hit in 1975, before following through the next 10 years up to the Live Aid show.
Two of the images released today show this landmark concert- the iconic moments pretty well recreated. Then we get this photo, of Malek as Mercury and Gwilym Lee as Brian May: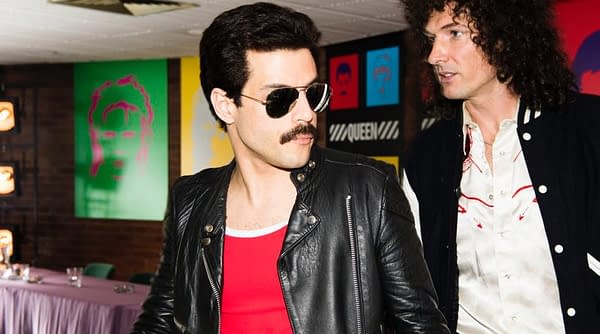 There was footage shown today at CinemaCon, the first any public has seen of the film. While we more than likely won't be getting that anytime soon until an official trailer hits, we can give you the description of what was shown, which at the moment isn't much.
Reportedly, there were two song performances shown, "We Are The Champions" and of course, "Bohemian Rhapsody". I am DYING to hear how Rami sounds as Freddie, so this trailer can't come soon enough for my taste.
Bohemian Rhapsody is set to hit theaters November 2nd, 2018.
Enjoyed this article? Share it!