Cinematographer Christopher Doyle Releases An Interactive App Documenting His Street Photography I've almost certainly spent more time watching images shot by Christopher Doyle than any other cinematographer. Admittedly that's mostly because I've watched Chungking Express, which he shot for director Wong Kar-wai, more than any other film, but many films which feature his cinematography are ones that I return to on a frequent basis.
Doyle was born in Australia but has spent a large part of his life in Asia and in addition to his many collaborations with Wong Kar-wai he has also worked with Tsui Hark, Chen Kaige, Eric Kot, Zhang Yimou, Pen-Ek Ratanaruang and many others.
Doyle's photography is, perhaps unsurprisingly, as impressive and distinct as his film work and he's now released an iPad/iPhone app, which I first saw via THR, to showcase his work in this medium.
The app is now available in the App store and is currently only 99 cents in America or 69p in the UK. Doyle has named the app Away With Words, a name it shares with a video installation he created last month and his 1999 directorial debut.
Once you open the app you will be greeted with an image and an introduction to the concept – the screengrab at the head of this post was taken from the app today – and from there you can then navigate to the photographs by Doyle, all indexed by somewhat esoteric titles. Each page with a photograph has buttons you can use to share the image and also the option to interact and leave your own image or comment.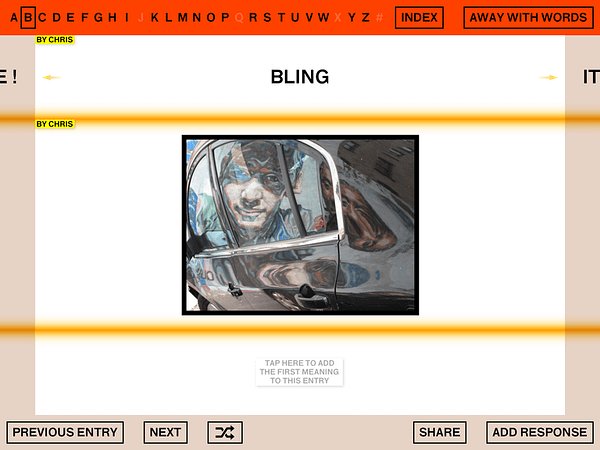 The app has been created in partnership with Art Asia Pacific and Elaine Ng, the founder of AAP, was quoted at THR regarding the decision to release an app rather than a book,
This way it can also grow immediately and organically without the formalities of print and the tedium of the web… One's involvement, whether contributing a new image, a new word, a new definition, can be done from anywhere: while walking, on the bus, waiting for a friend on the corner who is 20 minutes late, waiting in an airport for a delayed flight — just as Chris has been doing.
Doyle went on to say,
Books take longer to get out there and don't have the vitality of the street and visceral ideas and the eclectic nature of how the mind and the eye work. "Away with Words" is what it is all about, just like filmmaking: a way of going from word to idea — a way of getting away from and with words.
It's a neat app and a really great collaborative idea. I really hope it manages to get enough of an audience to build some real momentum. Hopefully some high profile users will get involved and help get the word out about it.