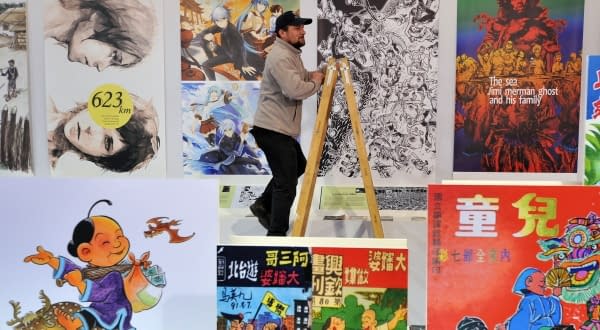 The Fortieth Angoulême Comic Art Festival, the largest such event in the world, is underway, kicking off this weekend. And no, I'm not there.
I'd probably just get in a fight if I did.
Didier Pasamonik, comic book industry journalist, currently working for French website Actuabd.com had his request for a press card denied by the Angoulême Festival, after he'd covered the festival since 1976. He blames it on the backlash from his recent criticisms of the festival… however a number of publishers attending have offered him access on their own tickets. Hmmm, maybe I should try that sometime. In its fortieth year, the organisers do seem to have been feuding with pretty much everyone, including, surprisingly, the administration of Angoulême's Comics Museum.
A previous plan for authors to entirely elect the next Grand Prix winner was scotched. The nominees chosen are Pierre Christin, Cosey, Nicolas de Crécy, Hermann, Manu Larcenet, Lorenzo Matotti, Alan Moore, Katsuhiro Otomo, Marjane Satrapi, Joann Sfar, Posy Simmonds, Jiro Taniguchi, Akira Toriyama, Jean Van Hamme, Chris Ware and Willem. The top three to five best voted will then be presented to the past winners that will effectively choose the final winner. Which is close to the former "public award", chosen by a commission among nominees voted by the public. And pretty much leaves Alan Moore out of the table – they may believe he wouldn't be a very active president for next year's festival. And he's not a close personal friend of many of them… also why no manga author has ever won. The Academy is biased against writers, so "pure" writers like Moore, Christin and Van Hamme have little chance. Which puts Larcenet and Sfar at the top of the favourites. Manu Larcenet, has blogged that people should NOT vote for him, but for his mentor Cosey.
ComiXology, launches in Europe at the show, will be in complete war with Izneo, the leading French/Belgian digital comics distributor. This should be a fun one.
The law is coming to Angouleme, setting up a legal court as an exhibition created by comic book creators, some created in prison by the likes of Berthet One, about "bubble justice", the idea that the law can protect as well as punish.
Algeria has sent a deligation of its cartoonists to the festival – the French colonial nature of the country means it is rich in comic book art, and they are feting Ameziane Ferhani, author of "50 Years of Algerian BD, The Adventure Continues".
The gay marriage rights march in Angouleme two weeks ago is still making the news and it's likely to see that be revived for the show.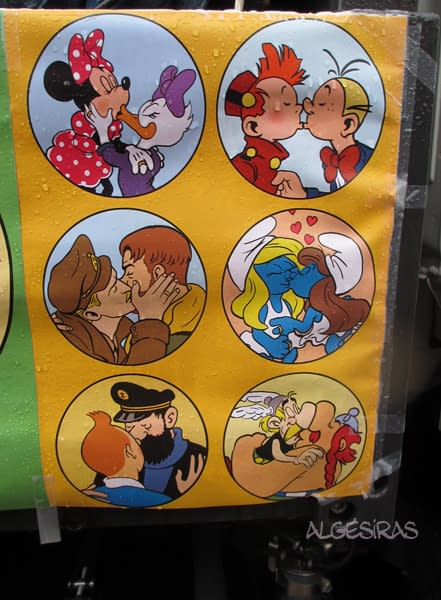 Japanese Leiji Matsumoto, 74, will be celebrating his 60th year in the industry with a massive exhibition of his work. While Albert Uderzo, 85, will be enjoying a "Uderzo verbatim" exhibition too. Another will look at how the images of Disney are used in culture – Disney lawyers may want to pop by this one. Jen-Claude Denis of Lucky Luke will have 150 original pages on display, and Andreas of Rork et Capricorne is the topic of the exhibition "The Arcane Andreas." There's a huge display of Korean comics, manwha – or the Gangnam Style-popularised phrase "K-comics" and webcomic creator, Penelope Bagieu, creator of "Josephine will receive the honour of Chevalier in the Order of Arts and Letters from Minister of Culture, Aurélie Filippetti.
Man, I wish I was there…
Enjoyed this article? Share it!