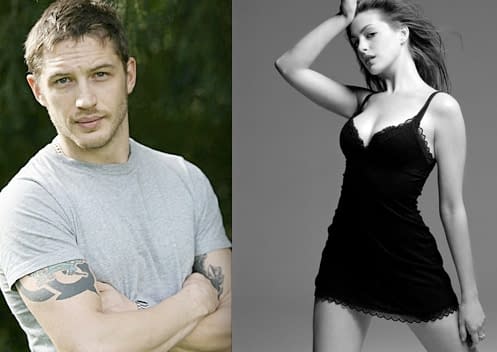 Warner Bros. have issued a press release with some casting information in respect of Chris Nolan's next Batmovie, The Dark Knight Rises, and so now we know: Tom Hardy's role will be that of Bane; Anne Hathaway has joined the cast as Selina Kyle, who we will presumably also see in the guise of her alter ego, Catwoman.
Suddenly, 99.9% of all Batrumours from the last three months are squashed. It also suggests that, somewhere in the world, some poor soul costume designers are trying to find new looks for Bane and Catwoman that will please the myriad fans and also tick every box for Mr. Nolan.
I wouldn't want that job. The nightmares about nipples would drive me insane.
Here's the full press release:
Warner Bros. Pictures announced today that Anne Hathaway has been cast as Selina Kyle in Christopher Nolan's The Dark Knight Rises. She will be starring alongside Christian Bale, who returns in the title role of Bruce Wayne/Batman.

Christopher Nolan stated, "I am thrilled to have the opportunity to work with Anne Hathaway, who will be a fantastic addition to our ensemble as we complete our story."

In addition, Tom Hardy has been set to play Bane. Nolan said, "I am delighted to be working with Tom again and excited to watch him bring to life our new interpretation of one of Batman's most formidable enemies.

Nolan will direct the film from a screenplay he wrote with Jonathan Nolan, from a story by Christopher Nolan and David S. Goyer. Nolan will also produce the film with his longtime producing partner, Emma Thomas, and Charles Roven.

The Dark Knight Rises is slated for release on July 20, 2012. The film will be distributed worldwide by Warner Bros. Pictures, a Warner Bros. Entertainment Company.
Enjoyed this article? Share it!