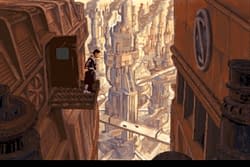 Beneath A Steel Sky is a fondly remembered game from the nineties, that featured copious amounts of Dave Gibbons artwork and designs, and a merging of the media of games and comics that's rarely been matched since. And now thanks, in part, to Gibbons' increased profile off the back of the Watchmen movie, the game has been remastered and will be released for the iPhone platform.
The project is a collaboration between Gibbons and Charles Cecil of Revolution Software. The pair will be hosting a BAFTA evening, Reinventing A Gaming Classic: iPhone "Beneath A Steel Sky" on Monday 5th October in London, with tickets available here. The pair will also discuss the future of comics and games in a digital environment. The event will also be podcast through iTunes here. Attendees will receive a reprint of the original comic book that accompanied the game.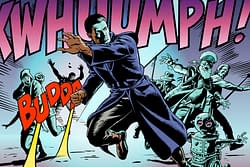 Beneath A Steel Sky: Remastered will be released for download on the App store next month.
Enjoyed this article? Share it!