Dave McKean has been updating on the progress of some in-the-works and potential movie projects via Twitter, and looking a little further afield, there's been some rumours of another.
We'll talk about Luna first, as it's now nearing completion. McKean has previously said that a 90% finished version of the film has been screened to producers. Today, he tweeted:
Very positive couple of days; first bunch of fx shots for Luna in the can, Darkside doing a great job… Luna is a film I wrote and directed 3 years ago, stuck at post-production stage due to funding mess. Now back on track.
There are some details of Luna online. It stars Ben Daniels, Dervla Kerwan, Stephanie Leonidas from Mirrormask and Michael Malloney, and the poster promises "fantasy, reality and the place inbetween." Here's that poster, and some stills: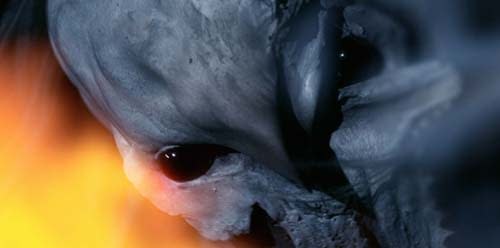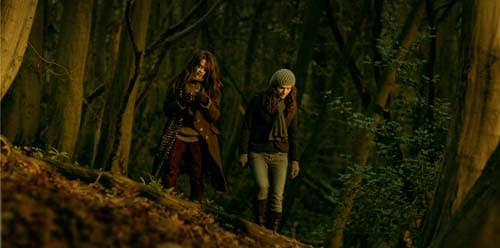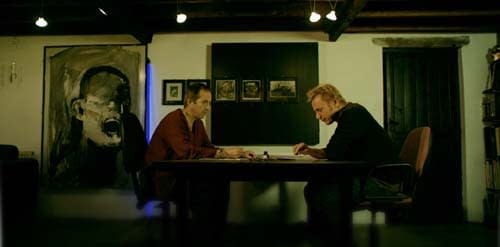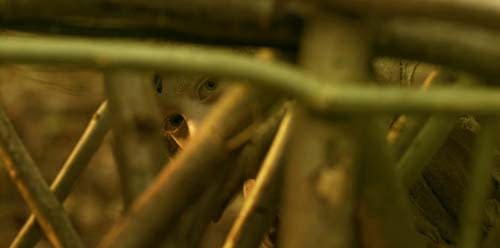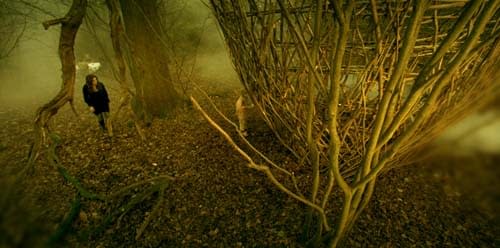 I've left the names of the images as I found them, more or less, so mouseover for some more clues.
Luna features the making and burial of an origami crab, and the artist responsible for this model has posted images from that sequence on his blog.
McKean's next project will be a film interpretation of The Port Talbot Passion, an upcoming site-specific play, set to unfold across Port Talbot over the Easter Weekend. It is being produced, "creatively directed" by and will feature the acting of Michael Sheen. I told you a little about it already. On the basis of today's tweets from Mr. McKean, it would seem some kind of green light has been flicked on, or a flag waved, or a pistol fired:
…looks like Passion film is on… now called The Gospel of Us. May change again, who knows. Now the real work starts.
It would seem that Sheen might have the Christ-like role in this telling of The Passion, or maybe I'm misreading the clues on the play's official site. Here's a teaser/viral video to promote the event:
[youtube]http://www.youtube.com/watch?v=ScsOnjjayzY[/youtube]
It bugs me somewhat that I can't remember the actress' name. Please do help me in the forum.
After The Gospel of Us, it seems that Sheen and McKean may have another collaboration in the works. Sheen mentioned the project to FearNet last year, saying:
I'm doing a film that I'm playing Poe in, about the last few months of Poe's life. And I'm producing it as well. Hopefully we'll be shooting it next year in Toronto. The title is The Raven, imaginatively enough. Or that's what it's called at the moment anyway.
That title has now gone to another Edgar Allan Poe picture starring John Cusack, so Sheen was right to assume it would change.
According to a recent update on a Michael Sheen fansite, however, Dave McKean "has been mentioned" as a potential director for this Poe movie. The way they relate the info is a little fuzzy, but it seems the "mentioner" here was Sheen, making a visit to the Royal Welsh College of Music & Drama.
Though it isn't clear why, Sheen has used this image of himself in rather simple Poe get-up on Twitter recently: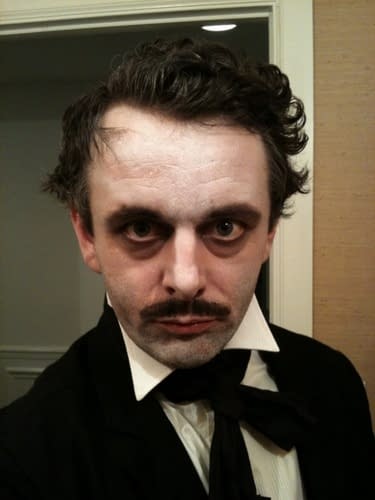 It's looking like Sheen and McKean are developing a strong working relationship. Only good can come of this.
Enjoyed this article? Share it!