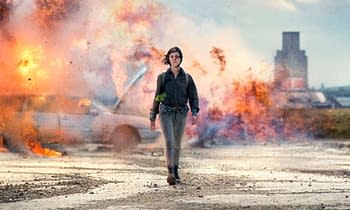 Alasdair Stuart writes.
Utopia, the recently(ish) concluded Channel 4 drama series was beloved of many, including this site but, initially, not me.
The opening comic shop scene was peopled with players straight out of central casting and all the visual invention in the world couldn't mask a script that, at first, seemed to trade off one part massive violence and one part "Aren't comics weird?"
I watched the first episode, I grumbled, I blogged. I moved on.
Then I came back the next week.
And the next. And the next.
Make no mistake, Utopia's a very difficult show to love. It's spiky and unpleasant and offhandedly violent in a way that anyone bored stupid by a lot of mid-90s British comics will find horribly familiar. But get past that and you find yourself in a hugely fun, and increasingly demented, world beyond the looking glass.
The show is, I'd argue, UK TV's first definitive conspiracy thriller of the 21st century, a story about monolithic organizations, genetic modification, the weaponization of children, what altruism really means at this point in human history and comic books not as a mark of being different and wrong but the last reliable thing in a cold, brutal universe.
I still don't actually like any of the main characters but months after the show's ended I can still remember all of them. Watch the first season now, and I think you'll feel the same.
David Fincher certainly seems to. Daily Mars have reported, via The Playlist, that director Marc Munden and producer Rebekah Wray-Rogers, spoke about the show recently at the Série Series festival.
They mentioned that not only do HBO have the remake rights for Utopia, but that Fincher is considering it as a possible future project.
And then they mentioned Looper's Rian Johnson as being a prospective scriptwriter – but the operative word there is prospective. Presumably spelt 'p r o b a b l y n o t'.
Regardless, with Fincher's House of Cards very well received and a second season on the way, whether or not he's directing any of it, the director certainly seems to be considering long-term TV plans. He and HBO and – hell, why not, it's Monday – Rian Johnson too would be a fantastic fit for a US version of this story.
Also, placing a story like Utopia in the same country that birthed Marvel, DC, Image and Blackwater Security is an idea with real, profoundly unsettling potential.
Conceviably, this new version could even function like the abandoned plans for the Primeval remakes, with different countries exposing their own aspect of the global conspiracy. Just with fewer dinosaurs.
Here's hoping this picks up steam and we'll bring you more news as and when we get it.
Enjoyed this article? Share it!