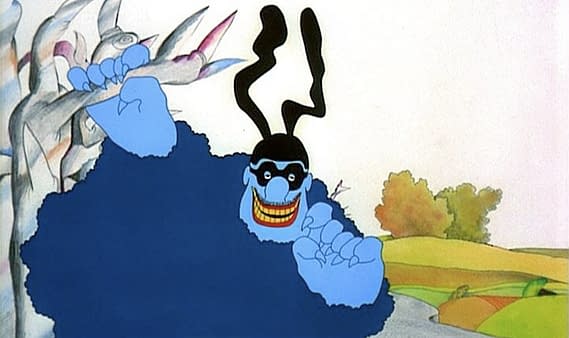 When sometime Who and current Single Father David Tennant turned up to record an episode of Paul O'Grady's chat show a couple of weeks back, the conversation quickly turned to professional competition.
O'Grady said:
We went up for a job together. Did you get the job on Yellow Submarine?
Tennant replied:
I don't think it's happening any more. I think the film has gone away.
Then, later, Tennant described the role:
Queen of the Blue Meanies… a six foot tall blue creature.
As if six feet were something remarkable. Maybe it is for blue creatures. If you aren't James Cameron.
Now – debate amongst yourself if there is such a role in the original cartoon or not; it pretty much depends on how you read "Queen".
Recently, Cary Elwes told us that this film was still set to go and that he would be before the motion capture cameras as of next Spring. Can we really trust Tennant's information over that of one of the film's announced stars? It certainly wouldn't be the first time somebody one might assume to be near the centre of a production was running on out-of-date information.
Here's the full video of Tennant and O'Grady. They start off with the Yellow Submarine chatter, the inevitable Dr. Who questions come later.
Enjoyed this article? Share it!