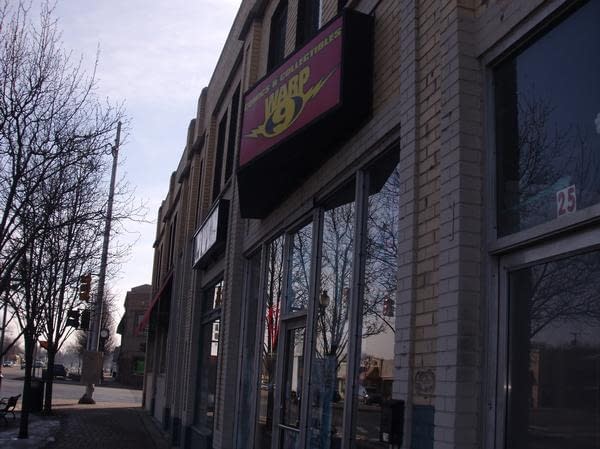 L E Becker, owner of WARP 9 Comics reports on the DC Retailer Roadshow, held yesterday in Rosemont, Chicago. He writes for Bleeding Cool;
I just came back from the DC Chicago road trip and wanted to share a few tidbits before I retire for the evening (a classy way of saying I'm going to sleep)…
Dan DiDio says that the reason that Action & Detective were restarted at #1 (even though the milestone 1000 issues were coming soon) is because if they were not restarted, then no one would take the relaunch seriously. Also, there are NO plans to re-number those 2 books when they DO reach their milestones (like marvel).
Many of the 'new' outfits shown are "not final" (which to me does not make much sense as we have seen these new uniforms on the new SDCC exclusive toon tumbler and sneaker ad).
Demon Knights Is Game Of Thrones

Some of the titles in DiDio's presentation were compared to (by Didio himself) recent hollywood trends (ie: Demon Knights= HBO's Game of Thrones).
Each title has a six issue commitment (I thought it was 12?).
Flashpoint is a "soft" starting point for the relaunch…in other words, you don't need to read F #5 to understand JLA #1
Advertising will be more significant…not only NATIONAL print/tv/movie ads, but also search engines, Facebook and emails
The target audience is 14-54, but the BUYING target audience males 18-34). they are trying to get the new, lapsed, and loyal readers.
July 20th Is Free DC Comics Sampler Day
For the retailers, they are doing a 75% co-op for advertising (although, to me, if they are already doing advertising, why do they need us?). They are also doing mid-night launch parties, and they are having retailers give out free "sampler" comics on 7/20, the same day as preview night at San Diego Comic Con. Retailers will receive these in quantities of five times their Flashpoint #1 orders.
There will be deep discount incentives on 7 of the titles (Wonder Woman being one of them with NO qualifier, unlike Marvel where you have to increase your order by 150% of another issue/title).
The polybagged JLA #1 that comes with the digital redemption code will have a variant cover (it wasn't announced who would do it however).
41 of the books will have complete 100% returnability at 20 cents per returned strip cover book (which some retailers criticized as ruining "the art form" but we can talk about that another day).
DC will NOT print to order and will have SOME reserves for re-orders, however, it is not a flat percentage across the board.
DC Direct and Mattel will produce product AFTER final designs are okayed.
Print Comics Outsell Digital 630 To One

The best was DC offering to retailers increased sales revenue of digital copies of their titles (through comiXology) if they have a stand alone DC comics portal (kind of forcing a retailer to get a website). They realize that we (the direct market) are their primary bread & butter (for now). The percentage of print over digital sales NOW are 630 to 1. Of course, this could change, but I do NOT think (IMHO) it will change that dramatically overnight.
Overall, the meeting was informative, and some of the books DO look exciting (for some reason, I have a personal morbid curiosity as to the I, Vampire title).
These is the final DC Retailer Roadshow I am aware of, you can catch up on LA, Dallas, Baltimore and New York shows here.
Enjoyed this article? Share it!