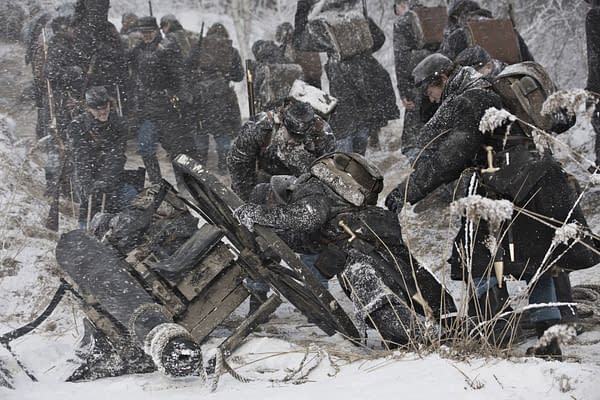 Ed Brown writes for Bleeding Cool.
Ole Bonedal's upcoming series 1864 focuses on the Battle of Dybbøl, a war that reduced Denmark by two-thirds, and "can still make Danes feel small."
Bornedal, the director of Deliver Us From Evil and The Substitute , as well as last year's The Possession, will be making his small screen debut with a show that, so far, looks like A Very European Band of Brothers. Which should only be a good thing.
Sidse Babett Knudsen will star, along with Pilou Asbæk, Søren Mallinga and Jens Frederik Sætter-Lassen, who are part of an absolutely massive cast.
Below are a few images as well as the official plot blurb, from MisoFilm. Thanks to TwitchFilm for the heads up… although they didn't announce their original source, the cheeky monkeys.
Hearts Bleed In Love And War


It's an innocent world full of hope when the two brothers Laust and Peter grow up under poor, but also happy, circumstances far off in the Danish countryside in the middle of the 19th century.

Denmark is enthused following the victories in the First Schleswig-Holstein War of 1848-50 where Denmark defeated the rebel army that fought for independence for the duchies Schleswig and Holstein from Denmark. After the victory, Danish political forces are scheming to annex Schleswig into the Danish Kingdom – in utter disregard of a treaty signed with the major powers of Europe and despite how provocative it would be to all Germans.

Meanwhile, Laust and Peter grow up and fall in love with the adorable Inge, a well-read Proprietor's daughter that lectures them on poetry, philosophy and women's liberation! And Inge returns their love. She loves Peter for his sensitivity and intellect, and Laust for his strength and drive.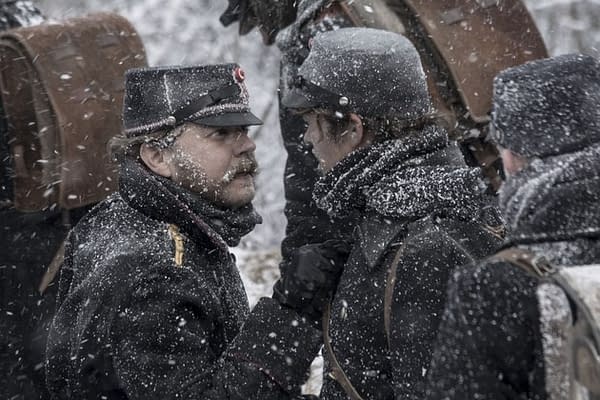 When the leader of the Danish parliament, Monrad, against the wishes of Great Britain and Russia finally manages to carry the motion that Schleswig should be annexed, everybody knows that this will result in a Second Schleswig-Holstein War.
This time, however, Denmark is not facing a small rebel army as it mostly did in 1848-50 but two German major powers Prussia and Austria. The minister-president Otto von Bismarck in Berlin is eager for Prussia to fight this war on behalf of the German Federation. And seeing as Peter and Laust's father died from wounds caused by a German bullet in 185o, it's a no-brainer for them to quickly volunteer for the army.

150 years later, in 2014, the unapproachable and maladjusted Claudia walks around in the same area. She lost her brother in the War in Afghanistan, and her family has fallen apart. On the verge of a complete breakdown, she's forced to accept a job as an aide for the 100-year-old Baron at the manor. Here Claudia discovers Inge's forgotten diary. A tale of thousands of young men that sacrificed their lives in a pointless war.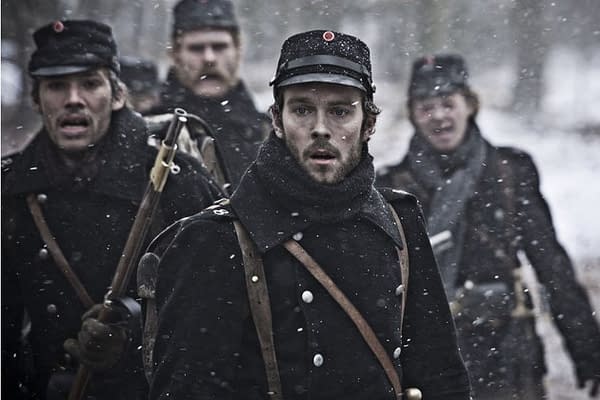 And through the diary, the story of Peter, Laust and Inge is told. The story of Denmark erupting into war – a war that would become one of the bloodiest in Danish history – forged by political hubris and blunders. The story of thousands of young Danish soldiers thrown to the lions when the Prussian army decimated the Danish troops at the Battle of Dybbøl in 1864.

1864 is a tale of innocence and love – of ignorance and political folly. An abundance of drama in the span between the years of beauty and the horrors of war.
Enjoyed this article? Share it!