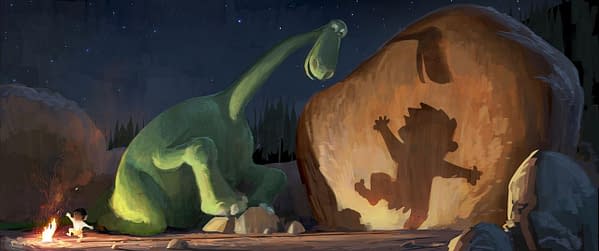 At the moment, we don't know who is directing Pixar's The Good Dinosaur. The project was initiated by Bob Peterson, who he had been co-directing with Peter Sohn, but at some point over the summer, Peterson left the project.
Since then, say The LA Times, the story has been carved up and portioned out:
A team of people including Pixar Chief Creative Officer John Lasseter, Toy Story 3 director Lee Unkrich, Brave director Mark Andrews and the film's original co-director, Peter Sohn, began overseeing various sections of the movie.
There's clearly a lot of work to be done as Disney have now announced, officially, that the film has moved from its release date next May to November 25th 2015.
Obviously, 2015 is plenty stuffed so something had to give and that something is Finding Dory, which has ceded its release date to The Good Dinosaur and shuffled itself back to the summer of 2016. So far away.
Some people will say this development is an indication of Pixar's demise, that it shows a studio in trouble.
Others will see it as quality control and a desire to get the film right before releasing it.
What I know though, is that this studio has overhauled several films before, sometimes rather drastically, and they're still to make a film I consider a proper stinker. Sure, the Cars films felt a little middle of the road – ahem – but there was more clever filmmaking and creative problem solving in just one of those than in a whole foot-high pile of most other movies.
I'll judge The Good Dinosaur when I see it. In the meantime, I'll just keep looking forward to it. Only wish I didn't need binoculars to do so.
Oh – and incidentally, this makes 2014 the first Pixar-less year since 2005; and it makes Peter Docter's Inside Out their next movie.
Enjoyed this article? Share it!