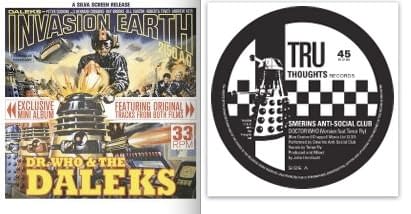 As well as a nice pressing of Matt Berry's Badger's Wake, the other Bleeding Coolable vinyl to roll out on Record Store Day will be a pair of Doctor Who specials.
Here are details of the first, from the press release:
A glorious 7" 33rpm EP taken from the Soundtracks of the two 1960's Dr Who films : Dr. Who And The Daleks and Daleks' Invasion Earth 2150!! Featuring two tracks from the Malcolm Lockyear score to Dr. Who And The Daleks, "Main Theme" and "Mountain" – two slabs of groovy 60's beat music, lush strings and twangy guitars all round! – PLUS an EXCLUSIVE mini adventure story version of the Daleks' Invasion Earth 2150 movie that has been especially created just for this EP- it stars the voice of Peter Cushing and of course The Daleks can be heard exterminating everything in their path!!
Not my exclamation marks. Not my disorganised use of spaces between words and punctuation.
The second disc is a version of the Doctor Who theme by the Smerins Anti Social Club. Here's the full audio of that.

So, that's one Doctor Who collectors item and one soft-ska nothing much, then. I was hoping for something a bit more Anti Social from Smerins.
Record Store Day is this Saturday. Thanks to Jonathan Melville for the heads up.
Enjoyed this article? Share it!