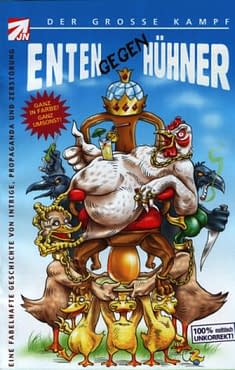 Over on The V Forum I've been involved in a political discussion about superhero comics. It's my contention that the superhero in essence is a right wing construct, a might-makes-right thesis that exercises personal responsibility over collective contribution, emphasising individual acts of charity over government solutions. And that even though characters and plot may often swing left of centre, even into hard left and anarchy, at its heart, the superhero is a conservative creation.
But it seems I may have been looking in the wrong place. I should have been looking at duck comics.
Donald Duck comics are famously popular in parts of mainland Europe and Germany is no exception. Well, Ducks versus Chickens (Enten Gegen Huhner) is a new comic created by the junior wing of far right German political group, the National Democratic Party (Nationaldemokraten), in tribute to Donald Duck's 75th anniversary (though without any pesky Disney-baiting trademark ticks) in the manner of a children's fable dealing with the issue of immigration.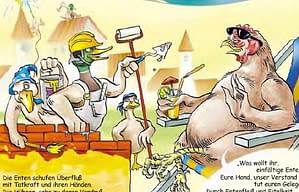 The comic told in rhyming couplets, tells the story of peaceful ducks whose lifestyle is turned upside down when a bunch of refugee chickens arrive with spurious tales of fleeing from an evil fox. Lazy and indolent, they have more chicks than the ducks have ducklings and soon the chickens start to dominate, infusing society with anti-duck terrorism, drugs, crime, traitor ducks, homosexuality – cock on cock action, basically – and encouraged to go to war with the neighbouring geese. In the end the only solution is for the ducks to leave the country, found a new homeland and build a big wall and keep the evil chickens out.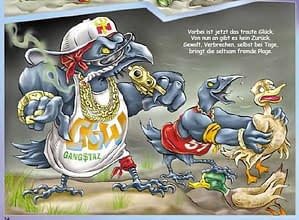 This follows the Austrian right-wing party FPO's science fiction fable comic HC-Man And The Blue Planet which saw a superhero taking down the evil European Union.
Thirty thousand copies of the first issue of Ducks Versus Chickens have been printed, are available for sale here and the full comic is available to download for free here.
Kind of makes Ultimate Captain America look like a commie.
Enjoyed this article? Share it!