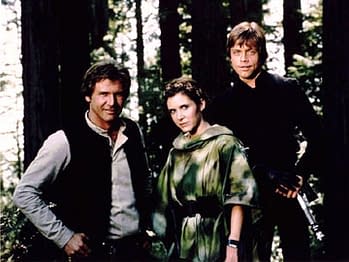 I'm fully confident that Mark Hamill, Carrie Fisher and Harrison Ford will all appear, to some greater or less extent, in the next episode of the Star Wars saga.
We know that George Lucas spoke to Hamill and Fisher before the Lucasfilm-Disney deal became public and Ford has apparently now signed on the dotted line to reprise the role of Solo in the next movie at least.
But Roger Friedman at Showbiz 411 seems a little perplexed at to why the Ford deal has been such big news right now, and why some people seem to be doubting it:
I just got back and saw a story running wild about Harrison Ford playing Han Solo in the new Star Wars revival. No one seems sure about it. I was told some time ago that Ford, Carrie Fisher, and Mark Hamill would be reprising their roles… the three main actors are definitely coming back.
But it's perhaps the other half of Friedman's commentary that's the most interesting:
It's some time in the future. Han, Princess Leia (with a presumably better hairstyle), and Luke Skywalker will be a lot older. Their children will be the new main characters… the bigger question is, which young actors will play their kids?
Does Friedman actually have information specifically to this effect? He's been super-sharp and on the money when it comes to matters of Adele or Barbra Streisand, but they're not creatures from a long time ago in a galaxy far, far away. I really don't think he's pulling our legs, though I do wonder what his source is.
Rumour has it that Matthew Vaughn would have cast Chloe Moretz as the movie's lead if he'd been handed the reins of Episode VII. This seems to back up Friedman's story, at least a little.
Cutting against it, perhaps, are some recent comments by Lawrence Kasdan, the Empire Stikes Back alum who's working on both the new main-saga Episodes and the spin-off films. He told The LA Times:
I'm trying to start fresh. There are certain pleasures that we think the saga can bring to people that they've been missing, and we're hoping to bring them that, and at the same time, have them feel that it's all new.
There are already several "extended universe" stories that feature the kids of Luke, Leia and Han. I'm not somebody who has dabbled with that stuff much but I'm aware of Jaina and Jacen Solo and Ben Skywalker. I think the series has gone so far that these kids also have kids of their own.
Will these established characters actually be in the films? Well, I'm hoping that JJ Abrams, Michael Arndt and the rest of the team just wipe the board clean and start all over again. There's a shape to the first six films, for all of their failings, and I think it needs to be extended into the next three chapters in order keep the whole thing feeling organically interlinked – and that is the point, isn't it? That's what the episode numbering is for?*
There was something a bit soapy, and not quite "on tone" with the little scraps of spin-off books that I read. I'm sure that many of them are fine works in their own right, but part of their potential and appeal was in going off to uncharted areas, even twisting the genre about, away from the "romantic fantasy" of the original movies.
These sorts of feelings and associations might work very well for the upcoming spin-off movies, but for the main saga? Probably not the best idea – and I think the worst bits of Episodes I to III actually pay testament to this.
One final thought: if somebody hasn't already pinned a picture of Jennifer Lawrence onto the crazy, cop-movie looking tactics and planning corkboard in the Lucasfilm war room, then I'll eat my danish bun hair do.
*I spoke about this on the podcast a few weeks ago. I think there are some elements of Episodes I to VI that really should be carried over to VII to IX, no matter how tricky it might be to work them in.
Enjoyed this article? Share it!