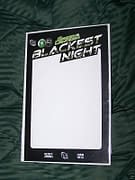 I understand that the eBay seller 4cornersconcepts is selling, amongst a bunch of eBay swag, a number of Blackest Night Sketch Covers. Special covers with a blank area for people to get comic creators to sketch in.
The only thing is that DC never issued any such sketch covers. They're fakem and this confirmation comes from the top of the company.
However they're going – and have already sold – from $50 to $150 on eBay.
If you are an unlucky customer, get in touch. If you are currently a bidder, pull out. If you haven't yet PayPalled the money – well you've caught a break.
It is unknown as to whether the seller is a willing participant or if they are also a victim, as their other items do appear to be genuine. But, as always, caveat emptor.
Enjoyed this article? Share it!