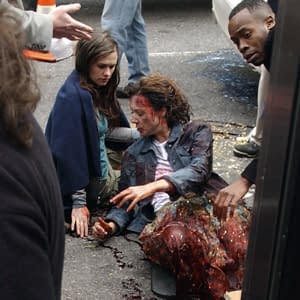 It's been the best part of seven years since Kenneth Lonergan wrapped on Margaret, but countless edits. Contractually obliged to be deliver a film of two hours or less, Lonergan was finding it very difficult to fashion a film he was happy with.
This is not much of a surprise when you learn that the shooting script was in the region of 300 or so pages.
Recently, Martin Scorsese was called in to help "arbitrate" and lead Lonergan to a shorter cut – which by my reckoning makes him some sort of company man, right?
Anyway, one way or another, the film appears to have been locked into a releasable form and, according to The Playlist, Exhibitor Relations have it chalked up for a September 30th release.
Dealing with the aftermath of a bus accident, the film is reputed to be an epic – or perhaps nowadays not so epic – drama, densely woven and full of rich writing and acting. Down from three hours to two, of course, that's a lot of dense weave and richness left on the cutting room floor. Perhaps Fox Searchlight are doing the right thing and simply releasing Lonergan's extended cut? That always was, ironically enough, the shortest way to a resolution.
Seeing that theatrical runs of "smaller films" are serving more and more as boutique experiences for the hardcore, and as aperetifs for the quick-following DVD and Blu-ray release, they might just get away with a 3-hour plus picture, even in terms of ticket sales.
Really – is there anybody out there actually looking forward to this thing that's going to balk at the director's cut because it's 50% longer? I doubt it.
Enjoyed this article? Share it!