Simon Pegg today tweeted a rather intriguing image: the title section from the front of his latest screenplay, The World's End, as written with Edgar Wright.
This is to be the end of their Three Flavours Trilogy, capping off a run of genre-benders after Shaun of the Dead and Hot Fuzz. We dont know which genre they'll be bending this time, but some info, once upon a time, pointed to sci-fi, as broad as that sounds.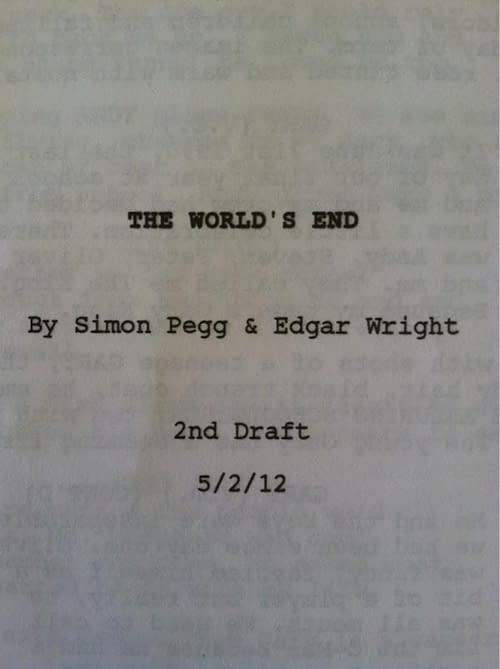 Pegg's photo is more than just a nice tease, it's something of a puzzle. If you jig and poke around with the image, you'll actually be able to make out words from the first page, apparently printed on the rear of the title sheet.
I'm wondering if any of you can fix this up for us and pull the best level of detail out of the image. It's probably possible to decipher every word.
So far, I have the following:
…school children…
…the images…
…rose tinted and warm with…
it was the 21st… the last
day of our final year at school
and me and my crew had decided to
have a… There
was Andy, Steven, Peter, Oliver,
and me. They called me The King
Because my name was Gary…
…with shots of a teenage GARY…
…hair, black trench coat, he…
The young Gary…
a bit of a player but really, he
was all mouth. We used to call
him the G-Man because…
I think that's all right, anyhow.
Those fragments chime nicely with what we know of the film's themes – that it's to do with becoming middle aged. Opening with a flashback to youth, and to the last day of school no less, all seems to set things up perfectly.
These are only tiny snippets from a second draft screenplay, and they should not be taken as a clear indication of anything you will see on screen. They do, however, give us some vague idea of how Pegg and Wright are thinking.
Please let me know how you do with pulling words out of the page.  And kudos to Pegg and Wright for using both sides of the sheet and saving the trees.
Enjoyed this article? Share it!