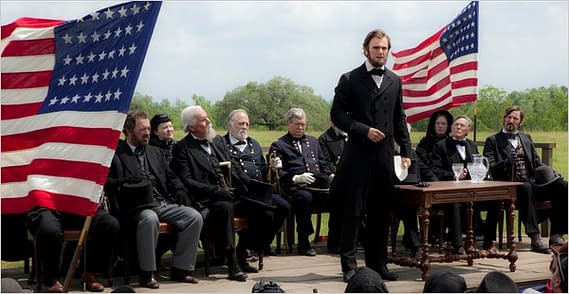 With the obvious exception of everything pertaining to the two words after the colon, Tim Bekmambetov's Abraham Lincoln: Vampire Hunter is striving for historical accuracy. The film has enlisted the assistance of Illinois State Historian Thomas F. Schwartz, who has talked to USA Today about his role in the film:
In a telephone interview Mr. Schwartz said his main contribution was to show the filmmakers how they might slip vampires into Lincoln's story with minimal damage to the historical record. "We're more than happy to serve in that function," said Mr. Schwartz, who has also been helping with a presumably more conventional project, Steven Spielberg's planned film about Lincoln.
Benjamin Walker, Dominic Cooper, Anthony Mackie, Mary Elizabeth Winstead, Jimmi Simpson, Robin McLeavy, Alan Tudyk and Rufus Sewell all have roles in the film, which is due on screens next summer. It could be some time – maybe not until the film premieres – that we'll get a look at the Vampires. Bekmambetov says they'll have an "unexpected" look, and I wouldn't be surprised if the marketing tries to keep them that way.
Enjoyed this article? Share it!