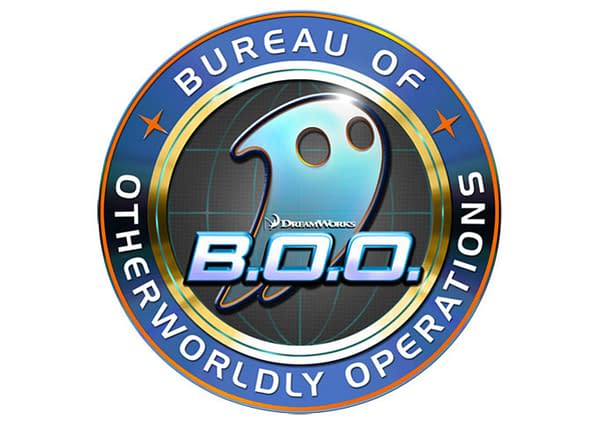 That's the logo for BOO: Bureau of Otherworldly Operations, a still pretty distant Dreamworks toon. We won't be seeing this film in cinemas before June 5th, 2015, so this is a nice early score by Animation Scoop.
This project started shape as a College comedy about ghosts, something called Boo U, but Pixar then lined up Monsters University and Dreamworks changed gear.
And now it sounds a bit like RIPD. Just a little bit.
Here's the official blurb:
B.O.O. (Bureau of Otherworldly Operations) is the super classified agency you've never heard of and certainly never seen. Dedicated to protecting humans from evil hauntings, the agents of B.O.O. have a secret weapon: they are ghosts themselves! When newbie agents Jackson Moss (Seth Rogen) and his odd-ball partner Watts (Melissa McCarthy) uncover a plot to destroy B.O.O. by the agency's Most Wanted Haunter, they must use every trick in their arsenal to defeat his powerful ghost army and save Earth from a ghostly fate.
Now it's sounding a bit like Monsters vs. Aliens too. I guess we'll get a better idea of what makes BOO it's own film closer to release.
Enjoyed this article? Share it!