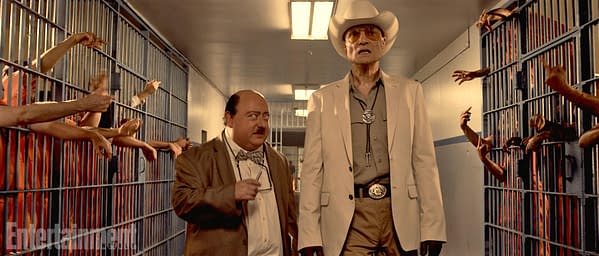 Well that looks harmless enough. Tom Six, the, um, mastermind between the first two films in the Human Centipede franchise, shared that photo with EW, along with some insights:
THC Part 3 will be totally different from Parts 1 and 2 and certainly not as gross. But it will be the most controversial one politically-wise. It will have a lot of self-mockery and will be the most darkly comical of the three. Parts 1 and 2 have a very European feel. Part 3 is very American with the highest budget, a big movie score, widescreen, and an XXL human centipede. It's set in an American maximum security prison in the middle of the desert. Plot-wise I won't share details yet but if you let your imagination run wild you might get ideas.
Eric Roberts stars in this one, along with Dieter Laser and Laurence R. Harvey, the villains from the first two films, though they will not be playing the same characters, according to Six:
Dieter Laser and Laurence R. Harvey play very different characters that will put Dr. Heiter and Martin in the shade.
How is an "XXL human centipede" (500 persons long oh my god) less gross than the first 2? I don't think I want to find out. For those who do, Human Centipede 3 comes out later this year.
Enjoyed this article? Share it!