According to Disney's current release calendar, we won't see Pixar's The Good Dinosaur until November 2015. That's a mighty long time. I should also remind you that there's a lot of intense work going on at the studio, helping this picture hop over some apparent story problems.
So, all in all, I'm a little surprised to see a teaser poster sneaking out already. But here it is, courtesy of the watermark-happy J Posters. And it's a post-delay poster, by the look of things, as the date at the bottom is pretty clearly not 2014.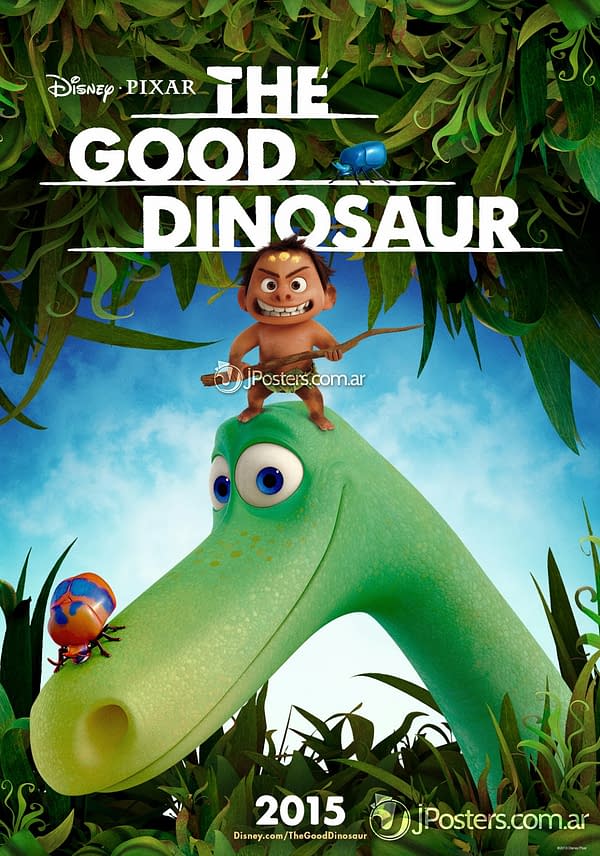 What great character designs. I already like them both and I've only seen them for a few seconds; I'm particularly curious about Arlo the dinosaur, as voiced by Lucas Neff.
I previously got the following description of the film from John Lasseter:
What if the meteor that killed off the dinosaurs missed Earth and dinosaurs kept living? It's really a great story because they are very funny dinosaurs. They are kind of cartoony but they are dinosaurs, they are not walking around with clothes on or anything like that, they still are kind of dinosaurs. We focused on mostly the plant-eaters, not the carnivores… Their society becomes more of an agrarian society, meaning farmers. They become farmers.
It's a very funny story about a certain way of life that a young dinosaur has trouble fitting into and he ends up going on this quest. He kind of messes up and he has to put everything right by going on this quest and on that quest he meets this our character that is an outcast from his society too and so the two of them form this bond and it becomes this unique kind of story… kind of hard to describe. It's a very special, very emotional story but it's so quirky and nutty. That's really the hallmark of Bob Peterson's and Peter Sohn's talent. Bob Peterson is truly one of the funniest people I've met and it's coming through with this story. Pixar does dinosaurs, but like anything we touch… it's unlike any other dinosaur picture you've seen 'cause it doesn't fit in your typical [idea of] what you think dinosaurs are. It's absolutely beautiful too.
Can't wait to see it. Have to wait to see it. Will have to cope.
Enjoyed this article? Share it!