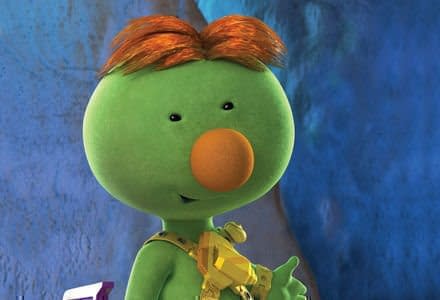 It's been a long time coming, but Fraggle Rock spin-off The Doozers has finally been given the green light to go ahead.
DHX Entertainment have announced that they'll be partnering with The Jim Henson Company on the show and taking it to MIPJunior and MIPCOM later this year for international sales.
The show has been in development for at least three years. Early in that time span, the plan went something like this:
In this series, those wee workers known as the Doozers have been cast into the spotlight and will take on their construction work above ground. Moreover, underpinning the show that focuses on a trio of new apprentice Doozers – named Baxter, Puzzlebea and Daze, who learn through teamwork and cooperation – is a curriculum built around green technology and eco consciousness.
Googling Image Searching, I found the above image of Baxter. Other images were too small, really, to be of much use. They were like Doozer stamps. By which I not only mean stamps with Doozers on but the size and scale of stamps that a Doozer would use.
Lisa Henson has said that the show is geared towards environmentally minded themes. She made it sound something like The Wombles, but with Doozers. She sure knows the way to my heart.
Will The Doozers be as wonderful, witty and timeless a show as Fraggle Rock? I should perhaps just say that Fraggle Rock is amongst the richest, most ambitious and inventive things ever made for TV, and this spin-off would do well to be one half as accomplished.
Enjoyed this article? Share it!