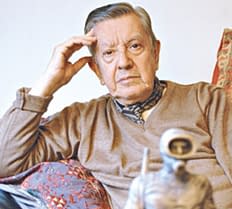 Francisco Solano Lópezdies on Friday. He was the artist for arguably the most important Argentinian comic book of all time, El Eternauta, from 1957, as well as a number of comics for Fleetway in the UK during the sixties and seventies.

El Eternuata was a sci-fi allegorical comic in which one man fighting an alien invasion parallelled the political situation in both Argentine and Chile, the comic speaking out against social injustice and the military junta.
As a result, López was forced to run to Spain to evade capture by the authorities, where he began working for Fleetway, moving to London to be closer to his new publisher and writers.
He received so much work from Fleetway, working on the popular boys comics of the time that he opened his own studio in Madrid, hiring assistants to help with the load, and creating a number of industry names in the process.
He returned to Argentina in the seventies to work on El Eternuata Part Two, but the situation worsened again, with his writer Oesterheld forced into hiding. His new sci-fi strip Slot Barr was abandoned when his house in Buenos Aires was mysteriously burnt to the ground, destroying large amounts if his work on Slot Barr and El Eternauta drawings. He returned to Spain, where he arranged for the Italian publication of El Eternauta and Slot Barr.
In the eighties he moved to Rio de Janeiro, he began working for American companies such as Dark Horse and Fantagraphics, on books such as Young Witches and Aliens: Kidnapped but kept working for Argentina , El ministerio, El televisor and police comic Evaristo.
And in the nineties he moved solely into erotic comics, including Sexy Symphony which he created with his son Gabriel Solano Lopez.
His cremated remains will be buried in his family's vault in Recoleta, Buenos Aires.
Enjoyed this article? Share it!