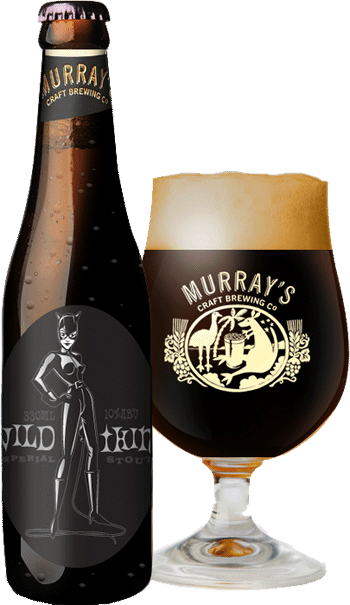 ProgrammingWatch: As the San Diego Friday programming goes live later today, we stil have a chunk of Friday, Saturday and Sunday programming on the Massive List.
BeerWatch: "Murray's 'Wild Thing' Imperial Stout was inspired by the great stouts favoured by the Russian Imperial Court."
And also, it seems, by Catwoman.
BraveAndTheBoldWatch: From JC Hackett;

"Batman's heroic ambiguity is so different from Superman's—and the two play off one another well. Superman's alter ego is designed to protect those he loves from others, while Batman's alter ego is designed to protect those he loves from himself."
ScottWatch: The DC Source talks Legion Lost
THE SOURCE: What about DC's new 52 titles excites you the most?

FABIAN NICIEZA: The fact that I'm writing one. There are only 52 slots and Lobdell has 49 of them, so the odds were stacked against me.
D23Watch: Disney fans to get a taste of Joe Quesada at their own convention;
Sunday, August 21, 2011

10:00 a.m. – 11:30 a.m.

Marvel Comics – An exclusive and unprecedented experience that will take you through the evolution of Marvel from its first comic book in 1939 to its current position as one of the most important creative forces in the world. During this presentation, which will include interactive Q&A segments, you will not only get an inside glimpse of the history of Marvel and its iconic Super Heroes but also discover why Marvel truly is the House of Ideas. This session will be hosted by Joe Quesada, Marvel's Chief Creative Officer and one of the most respected and sought after writers and artists in the entertainment industry.
CarWatch: Acura are bringing their SHIELD cars and recruiting booth to San Diego…
SwipeWatch: Electronic Gaming Monthly pays homage to a classic X cover…
This is Computo the Comic Link Conqueror speaking. I come for your women. But for now I merely collate comic-related bits and pieces online. One day I will rule. Until that day, read on.
They say I am a work in progress. The fools.
First Comics returns? | Robot 6 @ Comic Book Resources – Covering Comic Book News and Entertainment
Legendary '80s independent publishing powerhouse First Comics is returning when the world needs it most,
THE TURTLES THAT NEVER WERE • Joe Keatinge's Comics & Stories
My buddy Zack Soto recently posted jpegs, thoughts and notes over our aborted attempt to pitch a Teenage Mutant Ninja Turtles project to IDW Publishing. I thought I'd chime in.
The Death of Spider-Man Sells Out and Heads Back to Press | Ultimate Marvel | Comic News | News | Marvel.com
A second printing is on the way for the #1 book of the year.
Movie Producer Michael Uslan on Superheroes, Comic Books and Why Hollywood Doesn't Get It – Knowledge@Wharton
I said, "No, the lesson of The Dark Knight is if you respect the integrity of the character and have a filmmaker who's passionate about it, with a vision for it, who can execute it, then that's what you do. Otherwise, you guys will be on a kick to do The Dark Ant-Man, The Dark Flash and Casper The Unfriendly Ghost. And all you will do is continue to violate the characters."
Brian Wood – Comics + Graphic Novels – My LORD OF THE RINGS Comic
I fear the expectations on this are outpacing the reality, so I wanted to do some rumor control. I also want to say that this was a work for hire gig I did, one of the ones where the creative person (me) is a true hired gun and not involved in the larger decision making processes. In short, I wrote a script and got a check and how/when/why its released is not a conversation I am part of. Which is fine, its the way work for hire is supposed to work.
Joe Quesada to present at Disney's D23 Expo in August | Robot 6 @ Comic Book Resources – Covering Comic Book News and Entertainment
The first D23 Expo was held right after Disney had announced they were buying Marvel, so the House of Ideas didn't have a presence. But what a difference two years makes, as Marvel CCO Joe Quesada will host a session on Marvel on Sunday, and Kevin Feige, president of production for Marvel Studios, will join the movie presentation on Saturday. Does that mean we'll get to see all the Avengers come out on stage in their costumes? One can only hope.
More Captain America Photos Revealed | Superhero Hype
Paramount Pictures has revealed more photos from Marvel Studios' Captain America: The First Avenger

"Bow ties are cool."
Enjoyed this article? Share it!