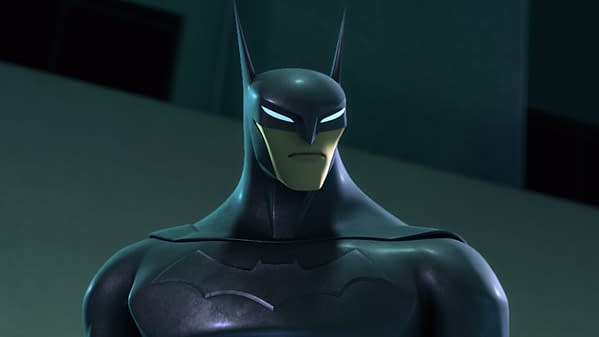 Mitch Watson, sometime producer of my beloved Scooby Doo: Mystery Incorporated and now the man steering Beware the Batman, spared some time for a few words with Sci-Fi Now.
During their chat, he explained some abandoned ideas for Batman animation, things that were considered before Beware had really taken shape. This lead to their headline:
SUPERMAN VERSUS BATMAN CARTOON WAS "TOO DARK" FOR TV
But closer inspection – by which I mean actually reading the story – shows this wasn't the case.
Here's how Watson describes the Clark and Bruce show that never was:
Then we came up with the lighter version of the show, which was Batman – specifically Bruce Wayne – and Clark Kent at the beginning of their careers. The show revolved around Clark as a cub reporter coming to Gotham City, where he meets Bruce. They're also just becoming Batman and Superman. Clark and Bruce become friends, but Batman and Superman hate each other. Then they realise who each other is, and get on the right side and end up living in the same building…

It was, tonally, a very different approach. If Beware The Batman is centred in terms of tone, this was much lighter. It explored two guys in their early 20s as they were becoming heroes. That was the gist of the story.
The lighter version of the show. That was much lighter.
So why the "too dark" at all, then?
Because of Watson's brief comments on another, different idea:
The first version was an Escape From New York kind of thing, which was a lot of fun, but I agree it was probably too dark for where they wanted to go with the show.
Now I get it.
I like Sci-Fi Now, and its fairly obvious that they like us enough to check in regularly. And slip ups like this can happen to anyone. It was an accident.
Still, I just wanted to tell you, before the notion goes ballistic on social media because it's just the sort of thing that fans like to set fire to, there was no Batman vs. Superman show that was too dark for TV. At least, not in this case.
I assume Beware the Batman is coming to the UK's Cartoon Network at some point. In the meantime, it's screening in the US as part of the DC Nation block.
Enjoyed this article? Share it!